Post by BilliamBabble Inked Adventures on Oct 9, 2010 10:37:15 GMT -9
This post is partly inspired by Kane's need for doors which work as "link" pieces in my Modular Dungeon Cut-Up Sections Basic Pack.
See thread:
cardboard-warriors.proboards.com/index.cgi?action=display&board=billiambabblesreleases&thread=2267&page=2#23161
Kane is currently working on his own solutions, one of which combines the corridors with dead ends to preserve the 3D effect. (Watch this space for more on this)
Quick recap and explanation:
A feature of the basic pack is the 2.5D/3D effect walls which take up 2 fifths of an inch (10mm) appox. A flagstone in 1 inch (25mm) wide. The stand-up doors included in the pack are designed to be placed over the top of flagstones on an open map where corridors run straight into chambers. Often plans require some pieces of card to overlap.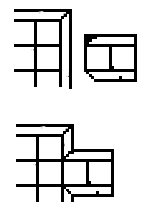 Many modellers like to link sections together, like in Warhammer Quest, with the doorway "bridging" corridor to room. The bases of the doors in the Basic Pack are too small to do this and need to be adapted. Also a repeated criticism of plans like these (as opposed to tiles) is that no matter what the weight of the card slight nudges can skew the layout. A solid linking system may prevent this.
Converting Stand-Up Doors Into Links
What you will need:


Card or photo-paper print outs from the Modular Dungeon Cut-Up Sections Basic Pack (or the free sample pack - for single doors only)

Scissors (no craft knives required, maybe something to punch holes with, I say this because I a very clumsy paper engineer and don't like to take risks without grown-ups present)

Glue - stuff that actually works - or double-sided sticky tape.

Paper fasteners (like those used with hole-punched paper when not in folders)

I'm very bad at writing instructions so here's a drawing made on an art tablet whilst drunk. I could tell you that it was drawn my a pet goblin I keep for such occasions, but you'll probably just believe what you want to believe. The goblin doesn't drink.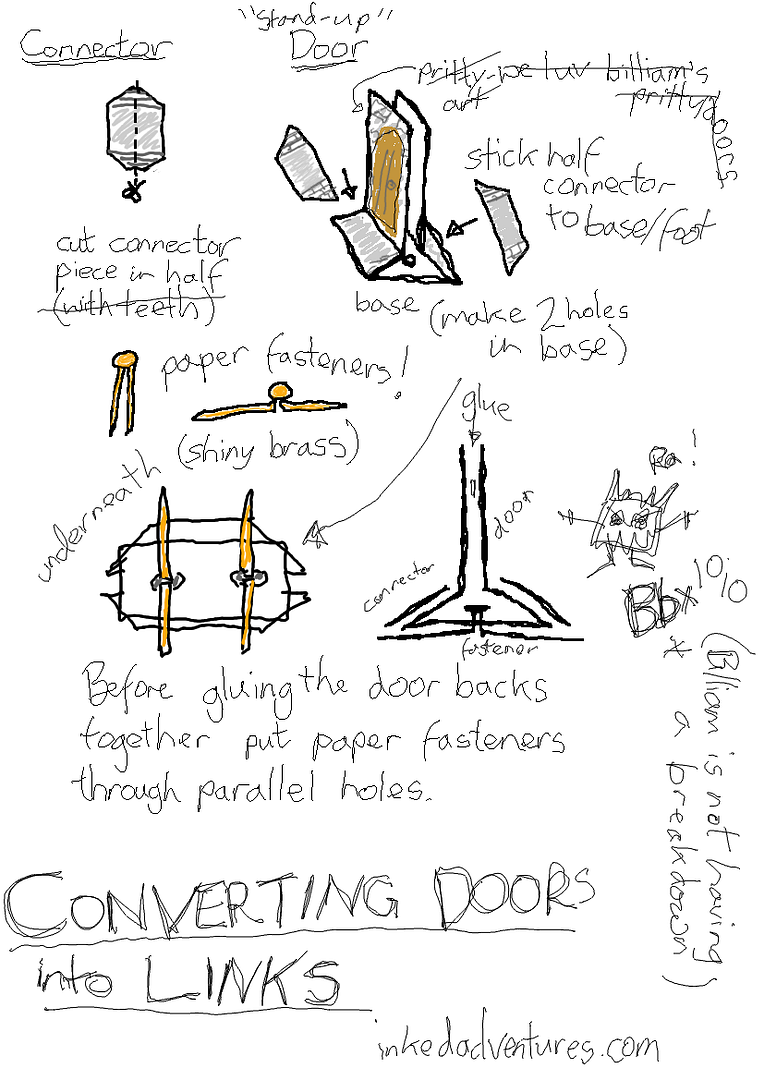 The paper fasteners act as feet, weight and grips. Sections can be joined under the doors with the fasteners gripping them like clips.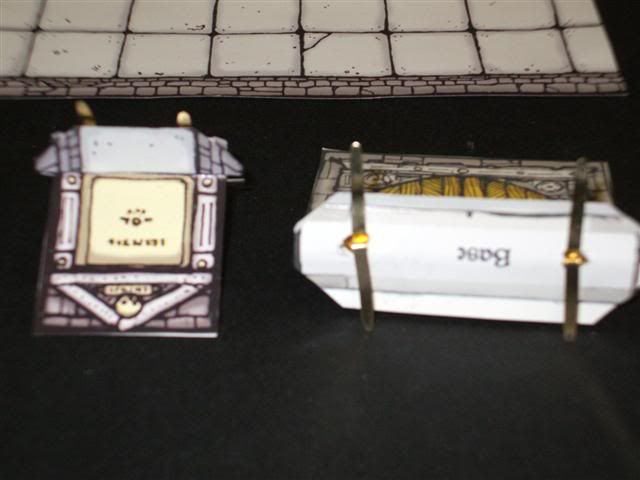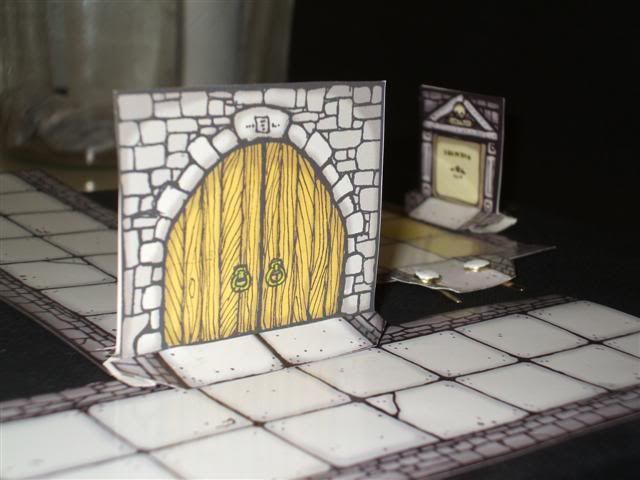 Paper fasteners can also be used with flat connector pieces. If you have no grey paint to hand, the shiny brass fastener heads can be dulled with white correction fluid.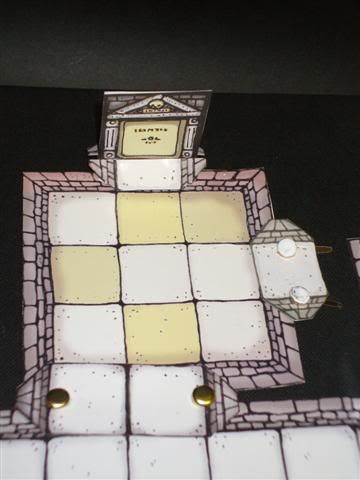 (compare the connector at the bottom of the picture to the one on the right of the picture)
Okay, here's the rub. Connecting sections "wall to wall" works well, because the original connectors and the modified linking doors are one flagstone deep (1in / 25mm). This traverses two walls (10mm+10mm) and the "black" gap (5mm) whilst not disrupting the square grid. In cases where walls are not running in parallel, i.e. when a corridor meets a room or ends in a door meeting another corridor, flagstone squares may have to be trimmed into half squares. The door base (or connector) then spans the half square, the gap and the new wall. To demonstrate: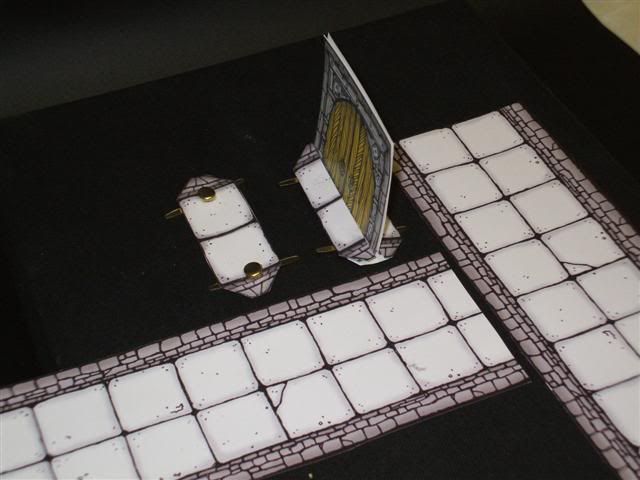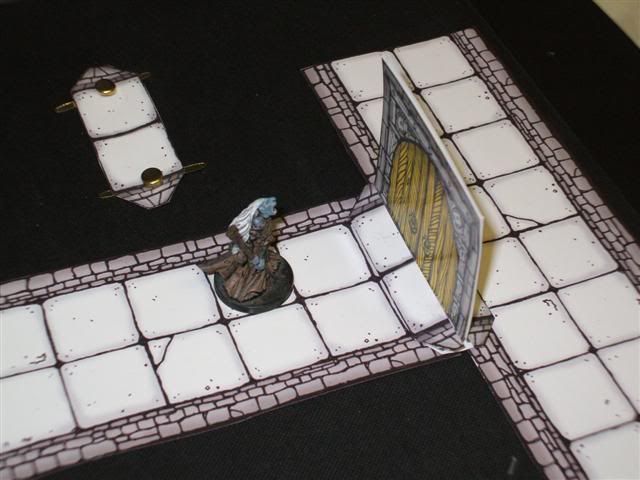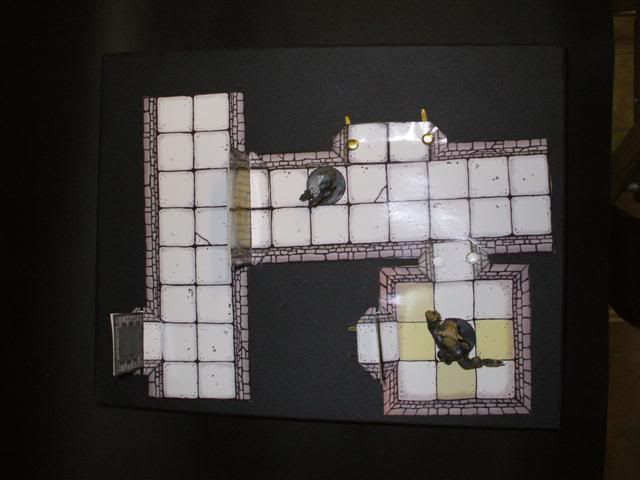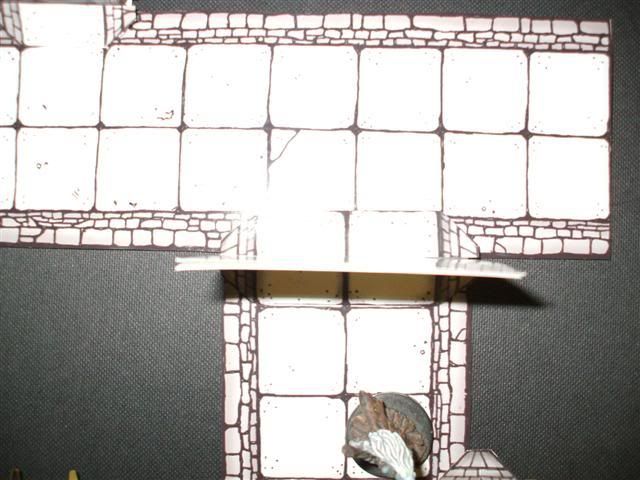 I'm finding that the paper fasteners are working very well at keeping the overall layout together without needing to secure the sections to a background with glue. Straightness of the plan is retained and easy to rectify if nudged. Also the doors no longer fall over or require coins as weights! Hurrah.
I hope to demonstrate soon that the doors can be also modified to open and close - but that may require the heady precision of a craft knife ...

Okay here's another photo:
(the two D&D minis were randomly to hand at my partners house - I'll try to demonstrate the plans with the cardboard minis in respect of this board)
;D