Post by MiniatureVillains on May 3, 2021 20:00:33 GMT -9
We recently finished our 3rd demon miniature, so I decided to group them as a small pack here. You could find more FREE staff (55 minis) at our
Patreon page
. I hope you will like them and find our miniatures useful for your games.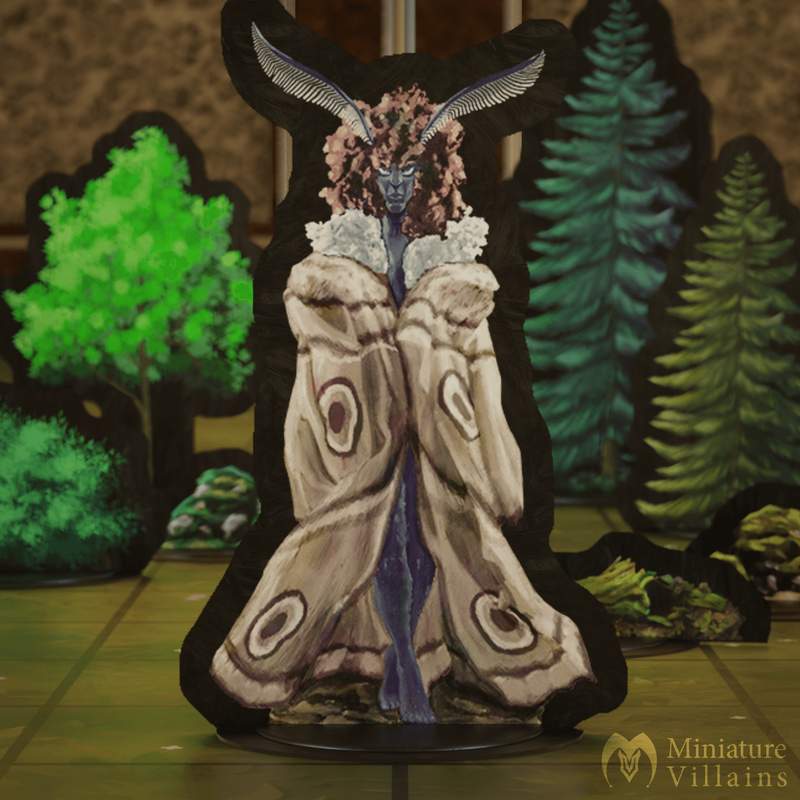 Iris The Moss Plague
Irogh was the rightful king of Asiria, a small kingdom in the far south continent, where weather is always pleasant and nature prospers from long warm days. Numerous trade fleets replenished the treasury regularly. Citizens were healthy and wealthy, neighbors were peaceful and gods were kind.
Being a man with huge desires, Irogh was always in the search of the best. If it's the money, he should be the richest, if it is the power he should be the strongest, if it's the woman she should be the prettiest. Struggling to achieve greatness, the king led his country to prosperity. But for someone to be rich, someone must be poor. For someone to be strong, someone must be weak. For someone to be beautiful, someone must be ugly. Everything shines dazzlingly in contrast.
Pushed to a corner by his own ambition, Irogh committed a grave sin. The ruler, who was destined to be great, opened a door to his decline and destruction himself. He summoned an ancient demon from Abyss. Iris was her name. Beautiful and strong was she. Her gracious posture, magnificent moss wings and warming smile made the mighty king to instantly fall in love. Bound by the ritual she was forced to make one his order a reality. Initially Irogh wanted to use her as an ultimate weapon to conquer the neighboring countries, but affected by her extraordinary beauty, the king changed it. He could conquer the continent himself and make as much money as he wants, but finding someone as beautiful will be impossible. After all, Irogh desperately desired the best, so he wished her to be his wife.
Everything has its price when you play with the demons. Shortly after the wedding, neighboring countries started a united war against his kingdom. The treasury was spent on the army, and the trade fleets were ambushed by pirates. The citizens were dying from the terrible war. Before long the proud and wealthy country of King Irogh has become a shattered ruin. In the remains of a mighty castle previously the great, now barely sane king made his last breaths. His beloved wife was standing by his side. The crooked smile of the most pleasure was brightening her hideously beautiful face. For the misfortune that she has brought to the world Iris was given the name The Moss Plague.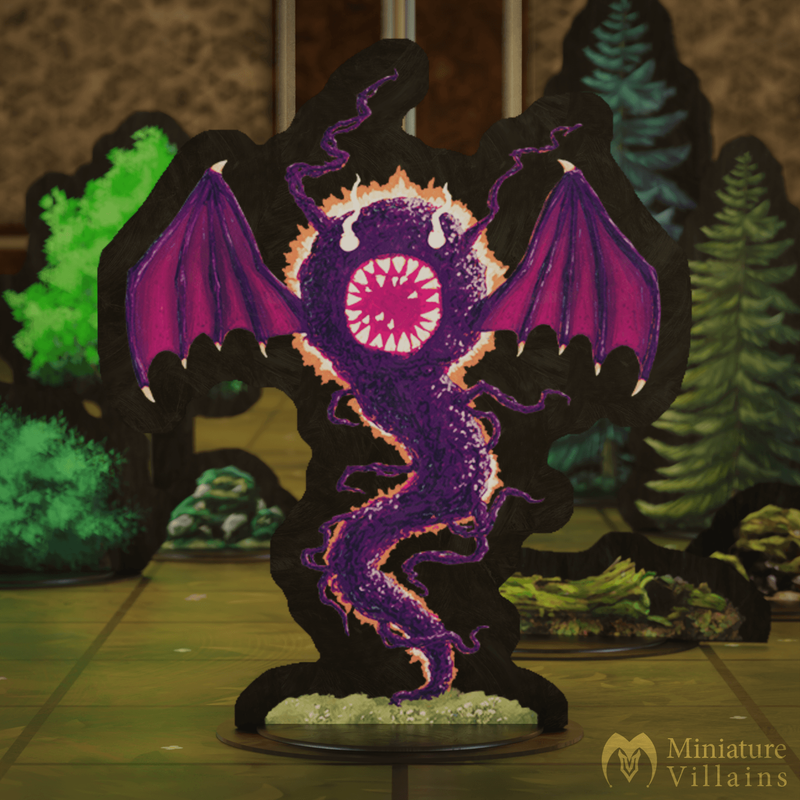 Flying worm demon Faresy
A demon creature born from the ruined soul of an earl Faresy, which was remembered in history as an envious and cruel man. It is told that in his lifespan he executed more than ten thousand people.
He was the 13th son of his father, so his claims for earl's title were low. But his devious and cruel nature helped him find his way to it, after a bunch of mysterious events. Upon becoming the only heir, he found a new target for his envy. His father's tragic destiny was anticipated.
Iren Faresy was constantly in a state of jealousy of others. If you have something that he envies for, you will get brutally killed. Their possessions or luck did not let him sleep well. Why would they have more than him, who was willing to sacrifice anything for his goals?
In the end even the king became his target. After the discovery of earl's conspiracy against the throne, he was publicly beheaded in the capital. It is told that in Iren's final days he lost the last drops of his frail humanity. Thousands of people were executed by fire before the royal army arrived.
His barbarous cruelty and viciousness led him to his rebirth as one of the demons in the Abyss. Earl Faresy was given a new body of blaze worm as a sarcastic remark of his eternal jealousy and all the fire that he brought down on his people.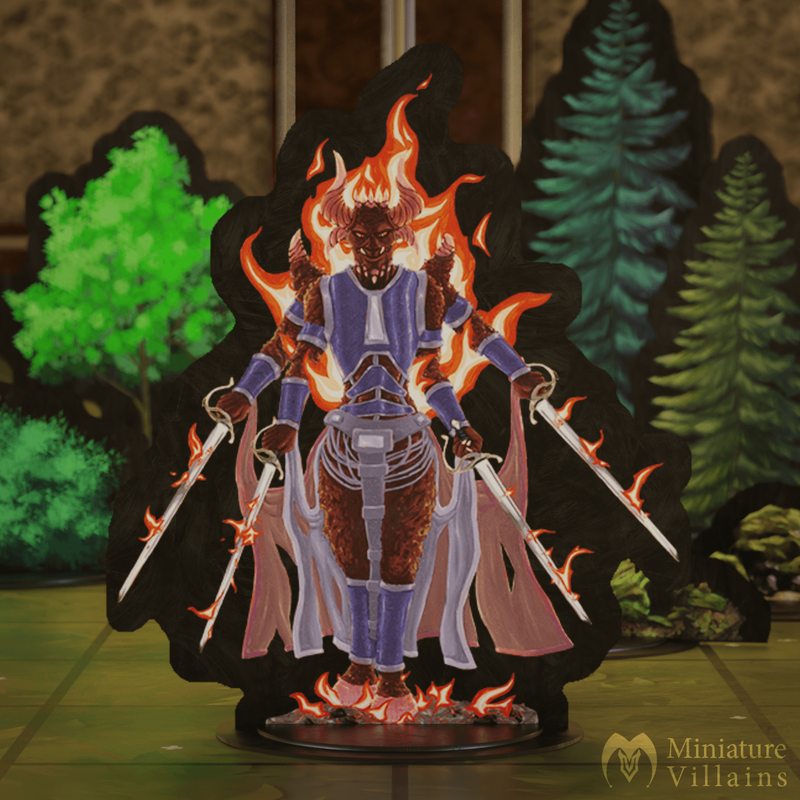 Demon fighter Azzaru
Azzaru was a special demon. Even though he belonged to the slaves of obyriths, his conceit knew no bounds. Disobeying, starting fights and revolving was his pride and joy. For that Azzaru was constantly punished by his masters, so he was always in the process of regrowing his limbs. Life in Abyss was not easy for a tanar'ri like him.
After the slave revolt Azzaru was looking for a new way to stand up above other demons. Revolutions open new possibilities. The place of the previous masters would not be vacant forever, so he chooses to become a demon lord himself.
Fighting constantly with others he built himself a small army by beating them into submission. With his superior dexterity and four swords masteries, Azzaru was having one win after another. With each victory his ego grew too. Before long he tried to challenge one of the demon lords.
His first defeat was grotesque. Never has he imagined his swords would not penetrate his enemy. After a blow his swords broke like a piece of glass. His hands were trembling and his head shaking. The blow, he received at the end, shattered his bones. Flying into the dirt, he coughed some blood.
Only now Azzaru understanded the foolishness of his conceit. The skills that he polished from his birth was not enough to win this opponent. Fear and despair filled his mind. Not able to stand up properly, Azzaru sat on the ground. A wicked smile on his face demonstrated his readiness to die. His opponent made a swing and stopped it barely touching Azzaru's head. He was placed into submission. From now on he is the demon lord's servant, one among many.