Post by Dave on Dec 7, 2009 20:05:47 GMT -9
I've been thinking about doing a kit like this since forever. Although it has the potential to be a huge presence on the game table, it's made up of just a few components that can be repeated. I'm going to use this thread to show my design process and test builds. My goal is to finish this by Friday of this week, but I don't think it'll take that long.
Here are some really sketchy sketches I made, working out which pieces I'd need and how they'd all fit together: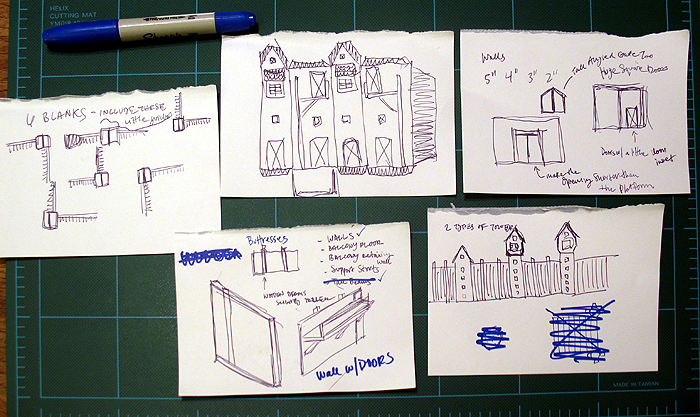 The walls are 3.5" tall and 1/4" thick. There's a selection of different widths: 2", 3", 4", 5", and 6". The walls have four different textures (wood, red stone, gray stone and red bricks). There are 2 versions of each texture so that you don't get a samey-samey appearance. If you alternate the "inner" and "outer" wall textures, you actually get 4 unique-looking textures -- and that's all from a single PDF file. (Well, each width has its own PDF.) There are lots of weathering layers, a couple of layers of little details, and some ivy if you want it.
The walls can be supported by buttresses like the ones demonstrated below: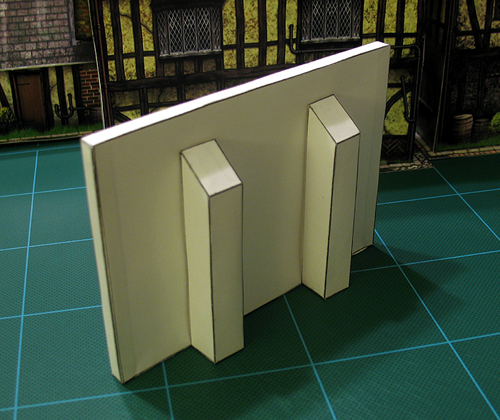 If you choose the wooden walls, you'll want to use tall beams to support your walls instead of buttresses, which are more appropriate for stone or brick. I'll show how those should be fitted to the walls in my next test builds (coming soon).
My next bit of business is to texture the buttresses and then add layers to the 5" and 6" wide walls so that you can have a "King Kong" door/gate if you like. You need a way into your town, after all.
Then I'll create some balcony-like structures to run along the tops of the inner walls, so that your troops have a way to look over the walls and fire arrows down on would-be invaders. I'm not going to do any "broken teeth" kinds of walls for this set, since there are plenty of castle wall papercraft kits available from other designers.
Once the "balcony" style platforms are done, I'll create the watch towers that will form the anchors for all of your walls. These will of course be multi-layered so you can vary their appearances, and I'm planning to create two versions, one of which will be designed with an overhanging watch house. I'll probably include some protruding dormers, too.
And that's about all that's needed to create walls indefinitely. There's more that I can add to this set, but I'll probably get the initial set out there with these basic parts and then create an add-on set if you want stairs or fancy railings or whatever else I can come up with.