Post by Dave on Dec 19, 2009 23:23:28 GMT -9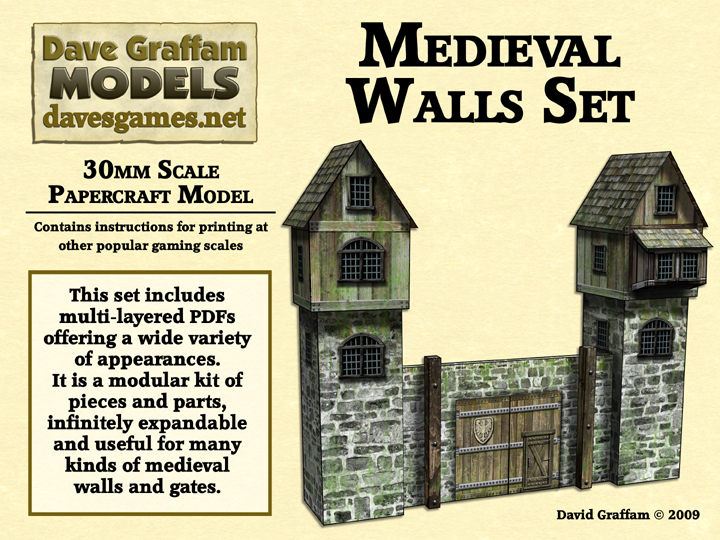 This is 30mm-scale terrain for wargaming, roleplaying games, miniature dioramas, skirmish games, model railroads, class projects or just for fun. Assembly is quick and easy, requiring only some sheets of cardstock, a sharp hobby knife and ordinary paper glue.
This Medieval Walls Set is a modular kit, giving you lots of pieces and parts that you can use in various ways to design your own medieval walls layout. This set's walls and watch towers can be used to surround a town or village, noble estates, parks, cemeteries, courtyards, prisons, sanitariums, military garrisons, or to separate the districts in a medieval city. There are countless ways to put these components together, and you'll certainly come up with interesting combinations never anticipated by the original design. And you can easily combine these pieces with other papercraft models. Each piece of this set is easy to assemble on its own, and the real artistry is how you start combining them.
Detailed assembly instructions are provided, including tips and advice for printing at various popular gaming and model railroad scales. One of the great things about papercraft models is that they can be printed at any popular gaming scale quite easily, so this model can be used for 28mm, 25mm, 20mm, 15mm scale and smaller. These files are 200dpi, which will look great when printed at full size without requiring large file sizes. You'll need Adobe Acrobat Reader 7.0 or later in order to use them, and the multiple layers may take additional time to render, so please be patient while your images load onto the screen.

MULTI-LAYERED FILES:
The PDFs included in this modular model set are multi-layered and contain a variety of surface textures and external features that you can customize with the click of your mouse. All of the walls feature four distinct base textures: wood, red stone, gray stone and bricks. There are also several layers of weathering and additional details, including doors, windows, lamps, ivy and more.
DIMENSIONS:
The walls in this set are 3.5" tall and 1/4" thick, and are supplied in widths from 1" to 6" and every half-inch in between. The shorter of the two watch tower variants is approximately 6.4" tall, and the taller of the watch towers stands approximately 8.75" tall. Each watch tower has a footprint of approximately 2" x 2". Bear in mind that the components in this set allow for a sprawling layout without any limits.
CONTENTS:
This set includes 13 pages of components, including everything needed to construct the watch towers, walls, roofs, dormers, buttresses, columns, pillars, angled struts, walkways, two types of railings, gate doors, ladders and more.
Be sure to visit
DavesGames.Net
to see my entire collection of papercraft models and upcoming releases.