Post by Dave on Dec 23, 2009 17:04:46 GMT -9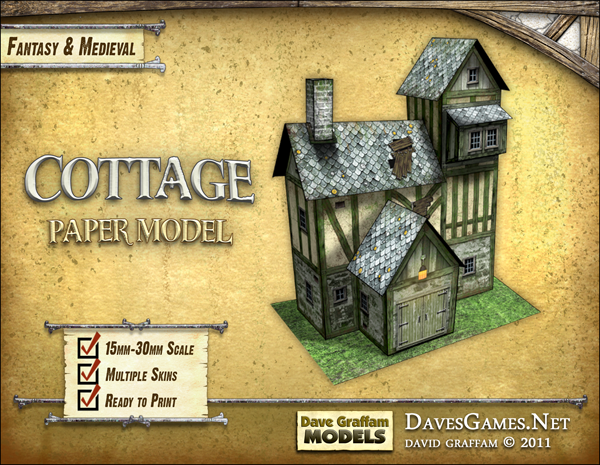 COTTAGE
This is 30mm-scale terrain for wargaming, roleplaying games, miniature dioramas, skirmish games, model railroads, class projects or just for fun. Assembly is quick and easy, requiring only 5 sheets of cardstock, a sharp hobby knife and ordinary paper glue.
This Cottage features multi-layered PDFs that let you customize the look of your model before printing. And you can print it several times, each with a unique appearance. Scatter around several of your custom Cottage creations to serve as houses, taverns, hostels, shops, government offices or many or sorts of buildings.
Detailed assembly instructions are provided, including tips and advice for printing at various popular gaming and model railroad scales. One of the great things about papercraft models is that they can be printed at any popular gaming scale quite easily, so this model can be used for 28mm, 25mm, 20mm, 15mm scale and smaller. These files are 200dpi, which will look great when printed at full size without requiring large file sizes. You'll need Adobe Acrobat Reader 7.0 or later in order to use them, and the multiple layers may take additional time to render, so please be patient while your images load onto the screen.


MULTI-LAYERED FILES:
The PDFs in this set are multi-layered and contain a variety of surface textures and external features that you can customize with the click of your mouse. You can easily add or remove layers of weathering and additional details, including doors, windows, lamps and more.
SINGLE-LAYERED FILES:
[/b] For your printing convenience, the Cottage includes a full set of single-layered PDFs. As a bonus, these flat files are created using a unique color scheme not found on the multi-layered version, giving you another all-new look to chose from.
DIMENSIONS:
[/b] The Cottage has a footprint of 6.5" x 4.4", and stands approximately 8" tall, not including the chimneys.
CONTENTS:
[/b] This model includes walls offering a combination of stone, wood and beam-and-plaster textures, roofs with a choice of 3 different kinds of shingles, 3 types of chimneys, a dormer with 4 mounting locations, 9 small wooden crates and chests, a ground tile in 3 styles, and an outhouse.
Be sure to visit
DavesGames.Net
to see my entire collection of papercraft models and upcoming releases.