Post by old squirmydad on Jul 25, 2013 10:52:19 GMT -9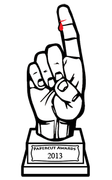 Hello and welcome to the 2013 Papercuts Showcase!
How to play: Make stuff out of paper, take a picture, start a thread in the appropriate part of the Papercuts Showcase boards.
The submission deadline for this year is Monday August 26th, 2013.
There will be four categories for submission:
1) Best Single Figure - The design must be original.
2) Best Multi-figure - A group of figures. All figures must be original design.
3) Best Model kit - terrain, vehicle, building- what have you, a multi-piece kit. Original designs only.
4) Diorama - Can be created from any available figures and terrain.
5) BEST IN SHOW - The one entry that says Papercuts 2013 to you. This category will be assembled from all of the other entries in the other categories.
Prizes will be in the form of gift-certificates to the online papermodel vendor of the winner's choice; choose from such wonderful vendors as One Book Shelf, Fiddlers Green, Ecardmodels, Paizo Publishing and many more!
First and second place in each of the four main categories will receive $35usd and $20usd respectively.
Best in Show will receive a whopping $60usd in electronic prize money!
In addition to the monetary rewards listed above Dave Okum of Okumarts and WaffleM of Armor Grid games are also donating to the Showcase;
-Okumarts will create a custom paper mini for each first place winners.  
Okumarts
-Each first place winner will also be able to choose any one product from the Armor Grid Games lines of products
Armor Grid Games
-Each first place winner will also be able to choose any one product from the Reivaj Minis line of products;
Reivaj Miniatures
-Brave Adventures is contributing an additional $10usd to the Diorama category and designing a cutom mini for the Diorama category winner.
Brave Adventures
That means the winner of this category will receive TWO custom minis, Okumarts & Brave Adventures, and $45 in electronic prize money.
Submissions will be in the form of photographs of your figure(s). Create a new submission between now and the deadline. Any miniatures or buildings included must be made of paper. Ground and other surrounding may be made of any other available materials.
Judging will be determined 100% by forum member voting.
Photography is a factor due to the fact that if we can't see it well, it will affect the scoring.
Rules of entry subject to change. Check back periodically for updates. Have fun with creating your submissions, and Good Luck!
No really, have fun.