Post by bravesirkevin on Sept 9, 2013 16:35:02 GMT -9
I've been pretty quiet around the forums for the last few weeks, but I've not been idle.

Following my adventures promoting my products at shows and conventions and talking to a lot of people out there, many lessons were learned and they've changed up a few of the ideas and long term strategies I had.
The most important of those lessons is that it's clear that I overrepresent on the dungeon tile scene and currently don't have enough stuff outside of that spectrum. I cater very little to the wargaming crowd, and virtually nothing in my store caters to the modern or sci-fi scenes. I spent a fair bit of time toying with various ideas on how to correct that and eventually decided the best solution was to get some outdoorsy stuff going.
I've been busy putting together all sorts of pieces and building up new texture libraries, but mostly I've just been trying to create some sort of long term strategy... What I came up with in the end was a massive range of highly customisable, modular outdoor pieces including basic tiles, hills and associated props. The outdoor stuff, being organic and not man-made, has proven to be lot trickier to create than the dungeon stuff, but it's gradually approaching a point where I'm quite happy with the way it's looking.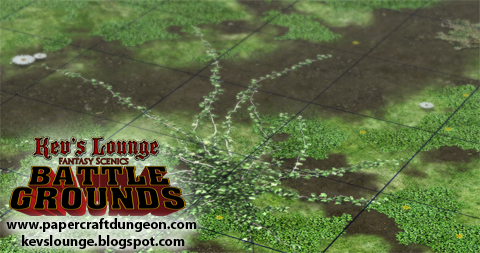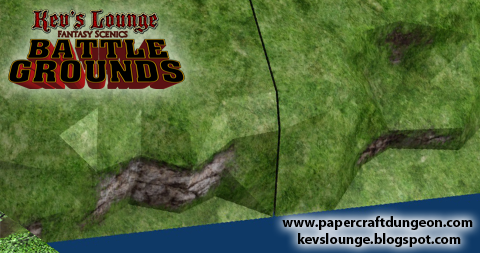 Doing some things differently with this new wave of products. The first set released will include tiles sized to 6x6, 9x6, 3x6, 9x3, and 3x3. They will be set up in a way that will allow anyone to use them in a way that's most comfortable for them, or can be stuck together to form a large poster battle-map. From there I'll add prop sets (along the lines of the
Dungeon Furniture Pack
), 3d hill sets, and a few buildings and ruins. I'll also add more tile sets as I go to add variety to the base set, and will put out an upgrade pack to the
Humble Hovel
to make it fit more comfortably with the new outdoor tiles.
Also starting with this wave of new products, I'll be pre-releasing WIP sets on
Papercraft Dungeon
. In the next day or two, an early version of the first tiles set will be available to download. It won't have the full features or the instructions, but it will be quite usable and will be only half the price of the finished set. Purchasing the preview will give you full access to the finished version and any intermediate releases of it as they become available at no additional charge! This is a little experiment, but if successful I'll be doing that with all future releases so that my dedicated fans do not need to wait quite as long to get their hands on my latest works.