Post by aaron on Feb 14, 2014 9:17:48 GMT -9
Ok my fellow Cardboard Warriors ! this is my first Tutorial ever so my graphics my be wonky and my spelling will definitely be a mess... so bare with me as I attempt to show you how I make a unit for the Temporum Oblitus army.
Pavaro asked "I wonder how the process of creating your figurines..."
I'm not sure if he thinks their cool and wants to know how I do it or if he thinks they suck and if he sees the process he can spot where I'm going wrong LOL either way here we go with :
Step 1 :
I draw the unit that I want I start with a sketch weather it's on a fancy art tablet or on a piece of toilet paper because you have sudden inspiration in an odd place, it's all the same. Start with a sketch. in this case I am using the sketch of the Ruskin's Harpy Commander! so I sketched her out and scanned her into my computer saved as a JPG.
First lets talk about some of the programs on my task bar First I'm Using Photoshop cs5 I won't be using anything else howver I would like to clear up that yes that's fight factory for making Mugan Charicters and yes that's also Dawn oF War Sole Storm with the apocolips super mod .... ok now that's out of the way .... obviously the next step I have already done but it's worth mentioning
Step 2: import your sketch into Photoshop ... again in this case I am using CS5 *consequently I always archive my original sketch in case I need to re-scan it later or refer back to it so don't toss out the original ... unless your out of toilet paper ... then do what you have to do

*
Step 3:
Make a new file. got to new image and start a new file NEVER WORK FROM YOUR ORIGINAL. that way if something goes wrong you can always start over.
Since I know this bad boy or girl in this case is going to be for print I want an 8.5x 11 inch paper ( standard here in the u.s.) and I want at least 300 dpi that's going to give me the high quality I want for print otherwise the image will just be fuzzy and well not as good. it's also why all my images on this forum are HUGE!!! it's because I don't design them for the internet I design them for printers.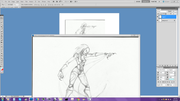 Step 4:
now that your working from a new doc save it as a PSD before you get started that way as you go you can hit the save button and you should ... often. I have lost more than one image because of a computer freezes and I didn't save the image like 6 hours into it.... stupid yes but it still happened to me and I don't want it to happen to you .... save and save often!
Step 5:
create a new layer and bust out the brush tool it's time to create an outline of the sketch. At 300 DPI I use a size 5 brush because anything smaller will disappear when we make it to scale later.
though this is a quick image the outlining process can take hours or even days depending on how complx the image is ... but now that the outline is done it's time for
step 6: lose the sketch ... we don't need it anymore
Just delete the under layer .... and no more sketch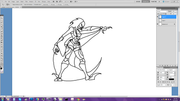 Step 7: time to add the base colors.
Just like painting a model you lay down the bast colors that all the highlights and what not are going to play off of.
I do this by creating a new layer and putting it under the outline layer that way I can be a little sloppy with the coloring and it seems to go faster.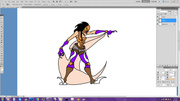 this process can take many hours so don't get frustrated if it's not just flying by and your like Aron's image was just click and click it was done... this one took me about a half an hour only because I have been doing this for a REALLY long time.
just for fun here's the image with the outline hidden so you can see what the colors look like without them.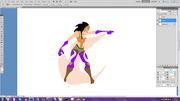 once this is done merge the color and outline layer together so it's easier for step 8
step 8 :
Adding Texture !! Texture makes your models go from humm cool to wow thats awesome! and here's the secret to doing it... ok ok it's not really a secret
first you select and area that you want to add the texture to ... in this case it's going to be the armor on her chest.
the first step to this however is to find the texture that you want to use, I have a folder of preset textures that I have either created or downloaded from a TON of sites including DA and many others ....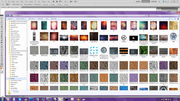 once you have the texture you want you drag the image into photoshop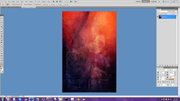 drag this image into your soon to be warrior of Awesomeness and using the free transform tool in the edit menu shape it to where you want it and then hide the layer it's on ...
now go to the layer that the warrior is on and using the wizard tool select the section of armor that you want to add the texture to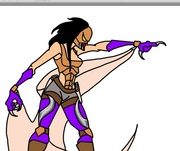 once this is done right click anywhere on the image and a drop down menu will appear click on select inverse this will select everything but the armor.
now go to the texture layer and unhide it !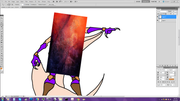 now use the eraser tool while it's still highlighted and erase everything that isn't the armor !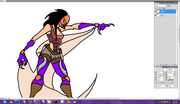 finally use the layer edit menu to back off the opacity until you have achieved the desired texture effect you were hoping for!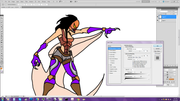 and bingo ! your done! ... now just repeat this process on all the areas that you are needing to add texture to... ya it can take a while ...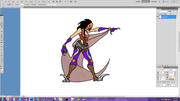 step 9:
it's time to add the shadows and highlights .... this is another intensely long and tedious process so don't get discouraged if it doesn't just fly by!
I add shadows and highlights by creating a new layer ( for each section of highlights or shadows ) that way I can manipulate them individually. so here you see I'm creating the detail on her helmet ... I add a new later and take the paint tool coloring a dark area where I want the shadow and then I use the blur tool to blend it into nothing ... it's on its own layer remember so it creates this really good blending effect. the down side is it will blur into areas you don't want it to so you have to go back and clean it up with the eraser tool.
here's the shadow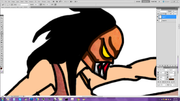 hit it with the blur tool
clean it up with the eraser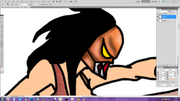 repeat this process until it's done .... again this can take some time so be patient and just enjoy the process. you know like smelling the flowers on the road !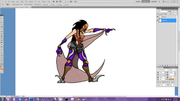 ok onto...
Step 10:
adding fine details ... I have a preset style for silver that I used on the wings and claws I forgot to mention that earlier LOL sorry

now we go back and clean up areas and add all the fine details like her belt buckle which I actually saved as a png image and I use it on all my Ruskins .. in fact all the unit designations are like that so I know that all my units will have a uniform look to them ...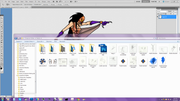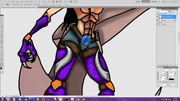 step 11:
add the black bar! just like censorship only better ! ... um nevermind... ok so time to make a new layer and put it under the model .... then using the box tool make the appropriate rectangle under the model then color it Black ... the blackest black that you can find!! it can't be any other color or the whole thing will fall apart and the world as we know it will END!! ok that's just not true it can actually be any color you want I just like black .... then on the bottom draw a Red line. the line is important for two reasons the first one is that the person folding the front and back together will have a fold reference and you will know were to put the back of your model ... that will make more sense in a few minutes ....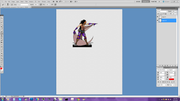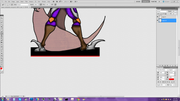 Congratulations your half way there!! ... now you could make your models one sided and just flip the image and you'd be done... but that's just lame and Rhannon would never forgive you! and that's just something I can't live with soooo we press on!!
Step 12:
Make a duplicate layer !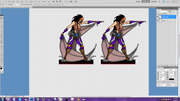 Step 13:
using the pipet color grabbing tool and the paint brus map out the areas that need to change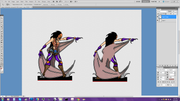 step 14:
go back to step 3 and start adding texture and then highlights and all that jazz until you have a finished back !
apparently I lost the pic of that sooo onto ...
step 15 :
line up the front and back make sure there are no discrepancies then using the edit menu flip the back layer vertically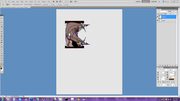 then using the red line you made back in step 11 line up the front and the back!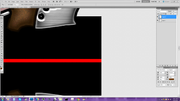 ok now were almost there ....
next merge the images into one model and if you like super huge models your done! but since most of us don't we need to re-scale it ( yes your going to lose some of the details your spent so long working on but that's just life ... in my case I resize all my models to the Red Scale. what is the red scale you ask ? well it's one of my Free Frontier Troopers she has red hair so I call her Red ... she stands just a sniff taller than a Games Workshop space marine so she's the closest thing I have to a 32 MM scale so I make all my models on the red scale.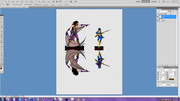 now I like to call it done but people whine about not havnig a border soooo it's time to add a stroke to your image ... fist I add a white stroke with a stroke size about 69 Dude!! Most excellent!
now make a new layer with nothing on it and merge the two layers ... this removes the layer preset and you can add another stroke only this one will be black with a stroke size of 10 or 11 if yours goes to 11 ... but mine goes to 11 ...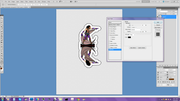 now use the eraser tool to clean up the outline and ....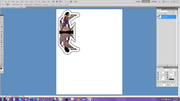 CONGRADULATIONS!! you made it !! and now you have a model that's coolness dipped in Awesome sauce! both front and back and Rhannon won't despise you muting how much you squander your potential under his breath as he scours the internet looking for the real deal! LOL
ok so thanks for reading this I hope you learned something ... even if it's that I'm really really annoying and I have no idea what I'm doing ... if you have any questions feel free to ask and don't forget to tip your waitress ! I'll be here all week folks !