Post by aaron on Aug 22, 2014 9:48:50 GMT -9
LOL is that a good Crikey! or a bad one?
ok so here he is joining the battlefield in all his glory the mighty Enlightend one!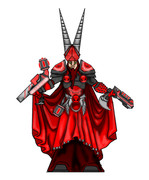 his horns will actually curl around his head like rams horns but they have to be flat first ... paper craft what are you going to do?
ok so you may be thinking he kind of sticks out like a soar thumb... and you would be right.
then you might think well won't that make him an easy target?
let me assure you that he is a lot of things, but an easy target would not be one of them.
let me see if I can give you a better understanding of this guy.
first by himself he's no slouch, he has a auto gun that shoots twice and packs a mean punch and then he's got an arm cannon so he can blast small holes in thing and large holes in people. though when you finally get to him you will almost never find him without his body guards.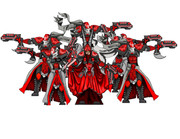 each is packing twin auto guns so they get two shots each.
If your counting that 6 double shots and a grenade launcher. this is usually more than enough to carve apart light vehicles and completely decimate infantry.
Though if the Core is played right you still have to get through the rest of the army to get to them ... lets review shall we...
first they will probably be parked in on or around a command tower.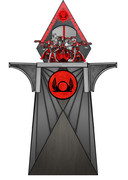 that command tower will probably be guarded by a foe hammer tank. the tank as I have mentioned before is a nasty seige wepon that can and will rip apart anything small and can seriously hurt anything big.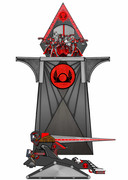 rocketing around the tower would be at least 1 unit of Talons who have the abuility so soften up light vehicles and tear apart troops plus they fly so they can flank or harass anything that gets to close.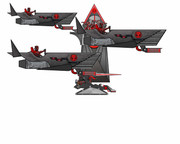 and hastening to clean up what ever wasn't pulverized by the Forhammer and Talons would be the Scorpions.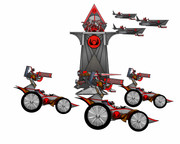 backing up the scorpions however would be fast moving birds of prey though they only have a close hitting shot gun type wepon they never touch the ground so you have to shoot them and they can get into their kill zone very fast...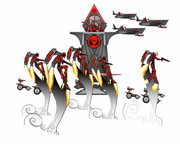 backing them up from a far off hill or high structure are the sniper teams taking out key units or individuals even popping the drivers of exposed vehicles.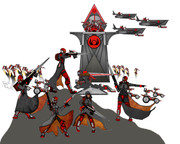 keeping their position fortified and choking the battlefield with Twin large flame templates the Torch engine .
Finally all this will be backed up and controlled by at least three Squads of Shock troops.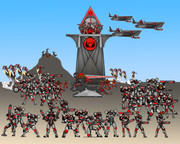 so now you have a better idea about this guy and the army at his command ... still think he's an easy target?