Post by aaron on Aug 31, 2015 6:36:29 GMT -9
ok so I posted this on face book but here on the forum I can get all nity gritty with it!
this whole section of Splinwoods is in honor of
WackyAnne
. Ann got sick a while back and we were chatting on Facebook. She was telling me that her RPG Group was facing down Tiamat and she had this feaver dream about Toadymat a five headed frog creature ....well the madness of her fever dreams turned into my reality LOL but in True Aaron fashion I coudln't just let it be a single model nooooo I built a world around it .... and so
The word Nata is Kelthose meaning no. no one goes there. No one ponders that place for to long. No boats fish there it's not safe. even the sea elves avoid the Nata Marsh.
The Nata Marsh sits along the southern coast of the continent of Estall. It spans almost a thousand miles from end to end and about 500 miles north into the plains. If you are standing on the highest hills of the Harthan plains and the mist from the swamp isn't roiling up to badly you will see the tops of ancient ruins.
Many explorers have fatefully gone into the marsh to learn the fate of what ever civilization lived there, none have ever returned. for living in the deep murk and brine that is the rivers mingling with the sea are the race of Merloms. They will drive out any seeking entrance into their marsh, and though the Merlom warriors are tough and their mounts the teuthiden can spray a boiling ink that will melt even the most stalwart of courage it's the great multi headed Gorgon that dwells in the neither that is the most terrifying to all. what great secret are they protecting, only a hand full of beings know and they will never tell!
ok so right off the bat I want to publicly thank Jim Harmen for being the awesome papercrafter that he is/ was / I don't know anything about him personally, but his models have inspired me to do so much and I think of him kind of the founder of everything I have done.
I knew I wanted fishy/frog like people, but I was having loads of trouble designing these guys. they went from more frog like to mind flayerish and even to squid people .... I'm still going to use some of those designs but I just wasn't happy with the Merloms I was creating.
untill I stumbeled across Jim Hartmens Deep ones.... I was in love with the design of htem and it was perfect for what I was going for! you can find the orginals here!
onemonk.com/onemonk-dl.html
now that I have my amphibian force fully figured I can start designing creatures and units to compliment them! I have to make the newt slaves and the Zog Dog in honor of Jims work but there's going to be more! and as always with each new relaese there will be more narrative piled on top of what's already here!
the last thing is that since these are Jim's idea first and in honor of that the entire army, every unit I make for the Merloms, will be free. you can find them here or on facebook and if
squirmydad
wants to put them all on One Monk I would be honored!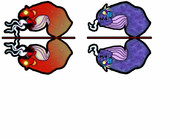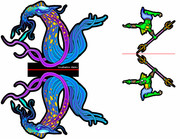 there is a lot more to come but since I don't want to scatter the models out over however many pages of this thread I'm just going to edit this post so check back and it will have new models as soon as I am done with them !!