Post by vwilliams32407 on Jan 12, 2016 8:26:19 GMT -9
Greetings everyone, I am following oldschool's migration from Fat Dragon Games forum to here due to the evolution from paper terrain to 3D terrain that is happening over there. Fat Dragon Tom says he is not abandoning paper terrain but the forumites are heavily into the 3D thing right now. I'm still posting over there but I thought I might find a more interested audience here. Here is what I posted over there.
My gaming group started Hoard of the Dragon Queen this past Sunday. I really like this adventure because unlike previous adventures it leaves a lot up to the DM to flesh out. I really got to spread my creative wings and incorporate my own ideas into the game and. I watched a several groups online play through this adventure and I borrowed (stole) some great ideas from them and it also inspired me to create my own version.
As usual I will assume those reading this are familiar with the adventure so my descriptions will not be that detailed. This thread is more about the terrain and showing it in play. I hope to maybe inspire those just getting into the hobby and maybe some "old timers". I know that for myself seeing what others have done has really helped my design maps in the past so I'm paying it forward.
The group consist of a human fighter, elf ranger, half-elf sorcerer, gnome bard, and a tiefling druid. I warned them that resource management would be vital to their survival during this first episode and boy was that true. When they got to the keep they were is rough shape.
They entered Greenest from the east and were in the town proper when the human family ran out from between some buildings with kobolds on their tales. The party immediately jumped in to help the humans who were outnumbered and already injured. The kobolds struck the woman down and even attacked and incapacitated two of the children. My players were not too fond of that. The bard cast sleep on the kobolds and the last standing child in an attempt to save him. It worked. One memorable moment from this fight was when an errant fire bolt from the sorcerer caught an orphanage on fire. They didn't even try to put the fire out!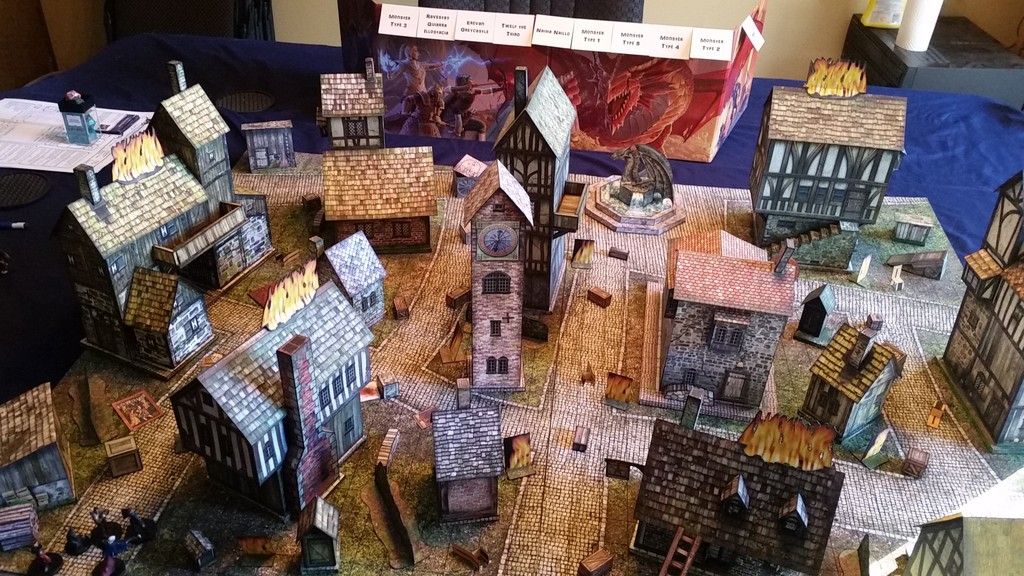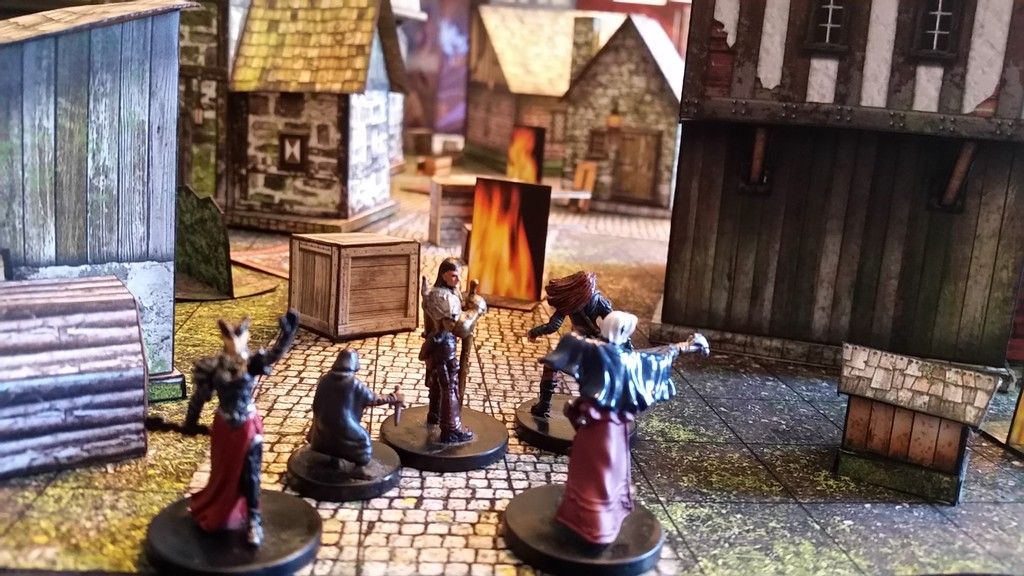 They stabilized the injured family and the druid gave them some kind of berry that she can produce and it brought them back to one hit point. Rather than carry the children they decided to load them up into an overturned cart and bring them along that way. That would leave more of them with free hands to fight rather than carry them.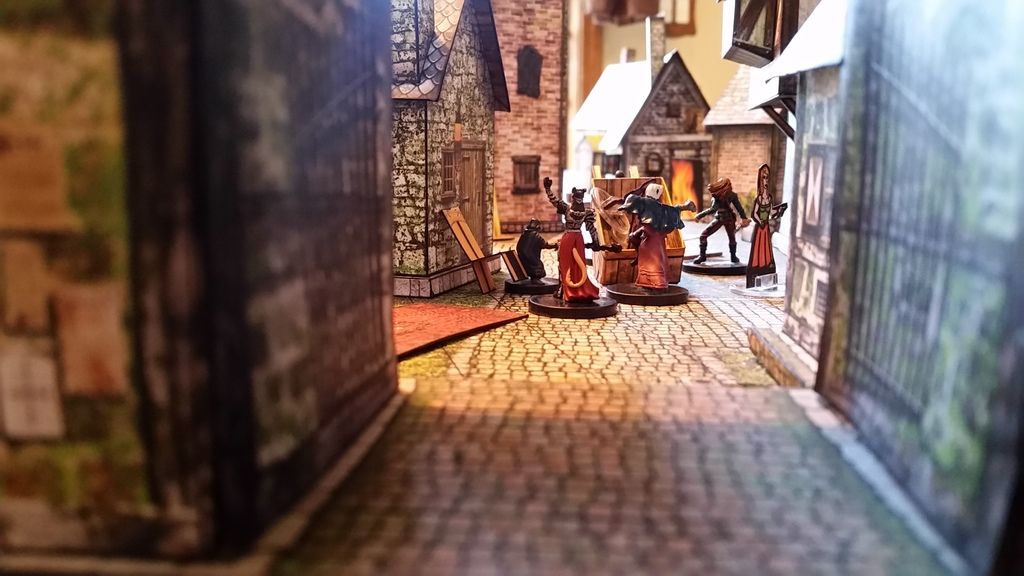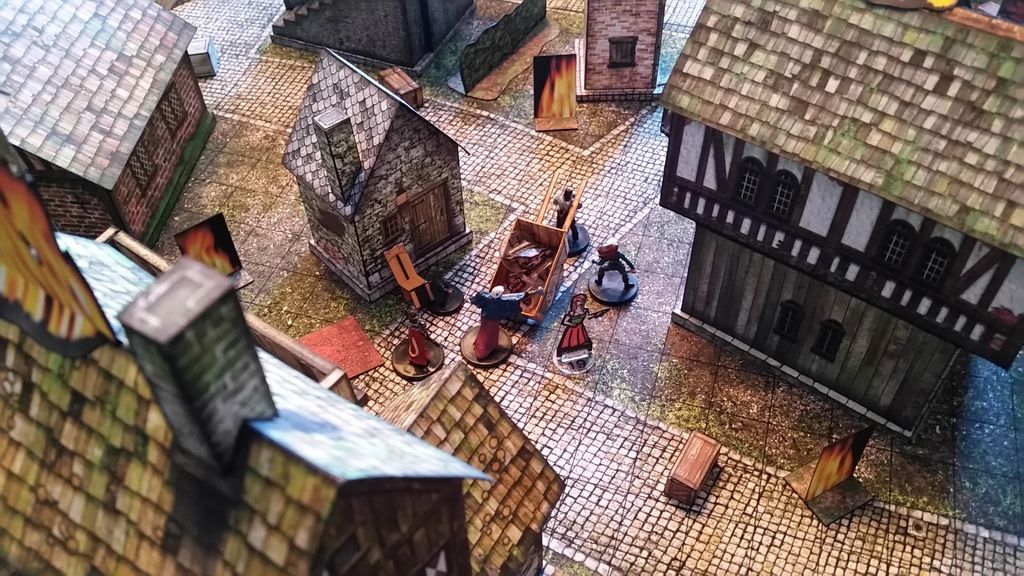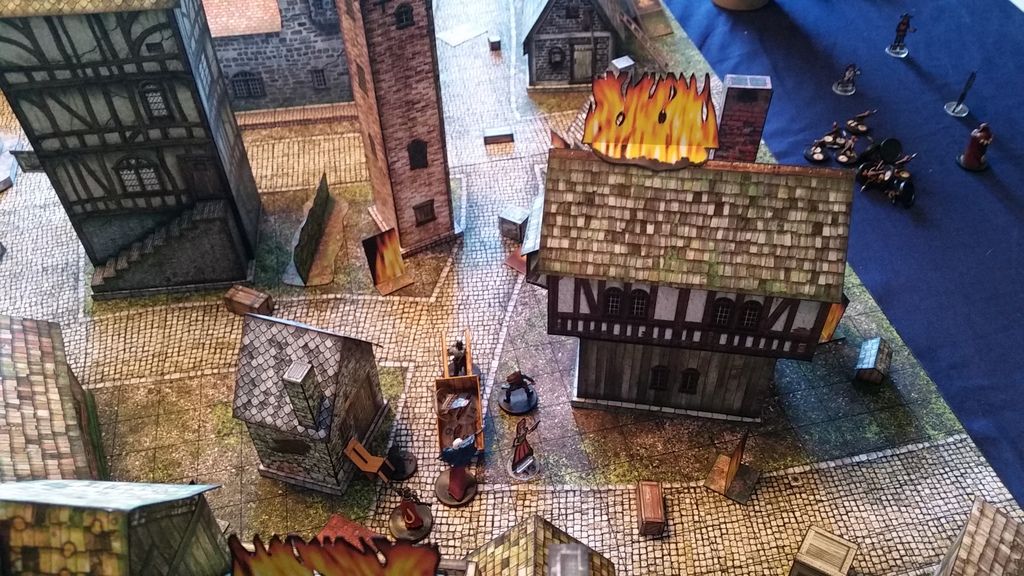 As they continued through Greenest they saw what appeared to be two kobolds being chased by a dwarf and an elf who really were cultist. The ranger used a cantrip of some sort and yelled in a booming voice to halt. One kobold and two cultists stopped just long enough for the party to dispatch the kobolds. They then realized what was going on and charged the party.
Having dispatched the second group of raiders they decided that being stealthy was a better tactic. The ranger got up onto the roof of a building and spotted Frulam Mondath directing kobolds to load the pillaged loot into wagons that were parked in the town square. They wanted nothing to do with her. By now some of the party members have donned some of the fallen cultist robes and they tried to bluff their way past the last group of kobolds and raiders who were outside of a building throwing rocks and torches through the windows of the building. They pretended to be raiders themselves and commanded the raiders to move out and go to the square to help load wagons. The raider bought it and left and the party saved ten townsfolk from the attack.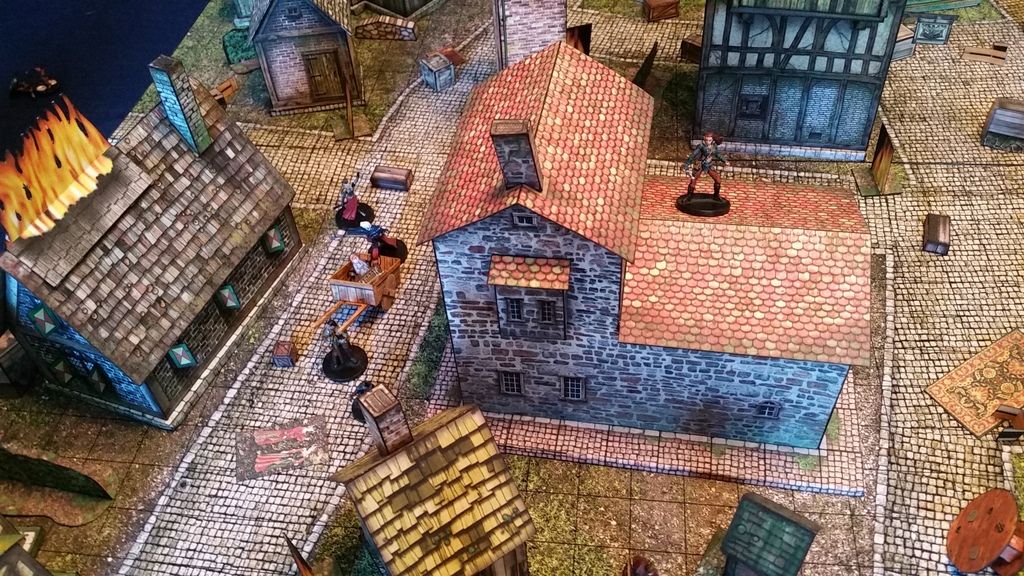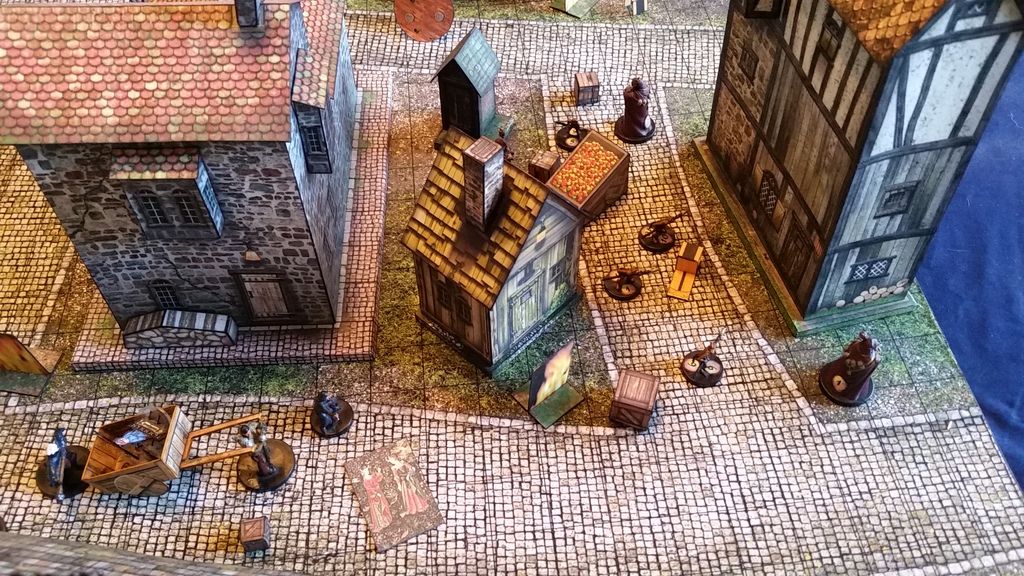 They sprinted the last way to the keep and just made it inside before the gates slammed shut. They met the governor and Castellan Escobert the Red. Their next mission was to go seal the breach in the sally port. They arrived to find it guarded by six kobolds, a drake, and an acolyte. Two guards of the keep accompanied them and they ended up doing the most damage. After dispatching the raiders Castellon showed up with a few health potions for the party and a second wave of raiders arrived. They sealed the door and were able to keep them out of the keep.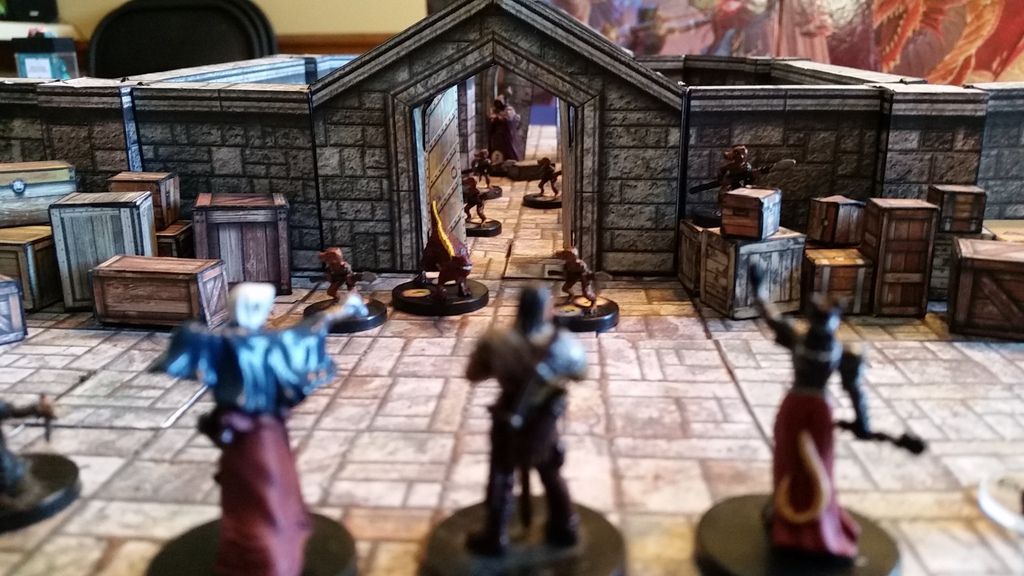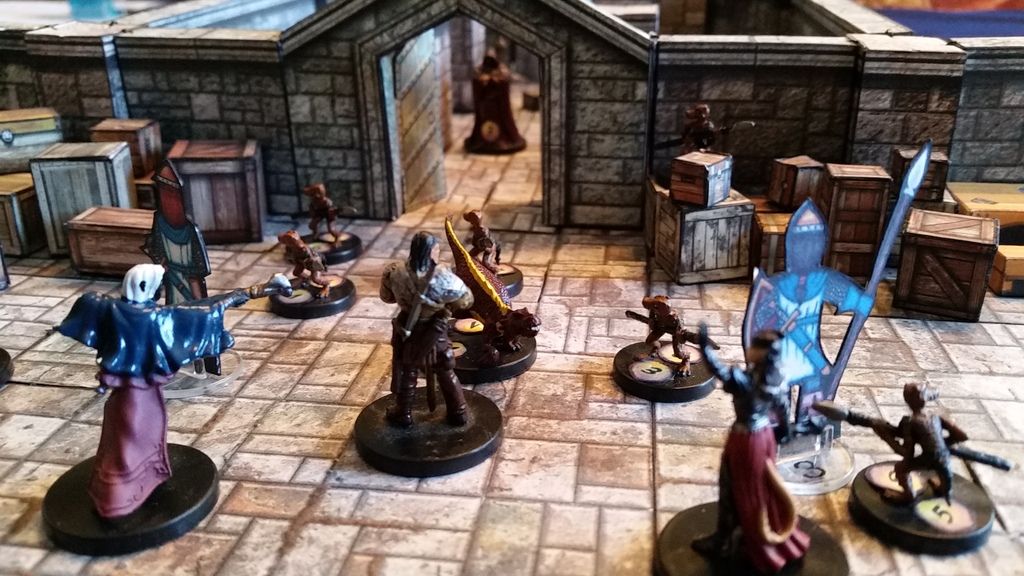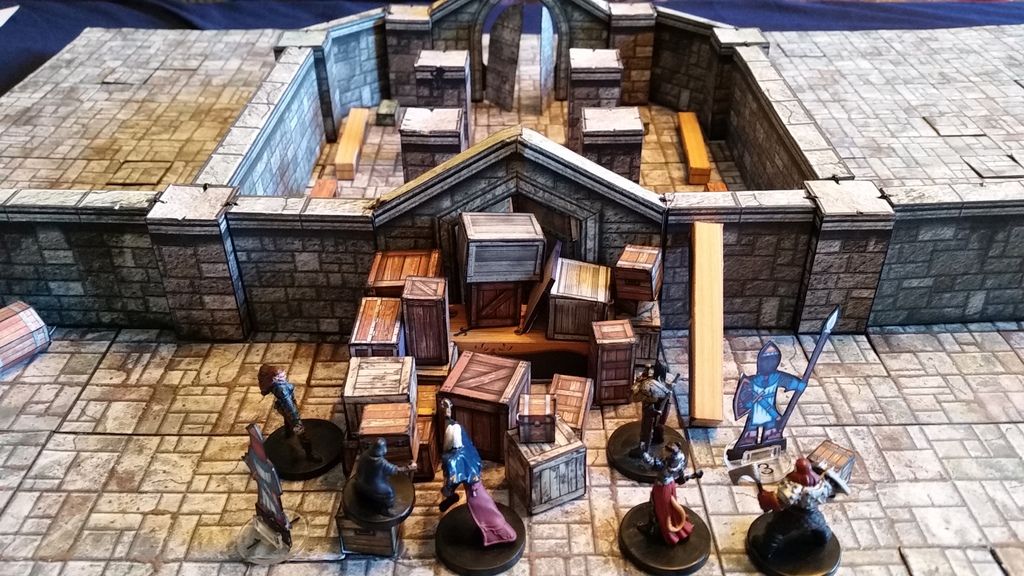 Fun was had by all and we introduced D&D to a new player this session. She did very well and fit right in to our group. I am looking forward to our next session. The previous maps were a combination of Dave Graffam and Fat Dragon Games terrain. Coming up next will be the use of Ravenfell sewers, water mill, and Winterhawk Castle sets.