Post by cherno on Feb 1, 2016 7:16:07 GMT -9
TL;DR: A "The Elder Scrolls V: Skyrim" boardgame I am currently creating (a purely personal project). Scroll down for images.
There have been various attempts at recreating Skyrim on the table top, mostly be adapting an existing RPG ruleset. I have been a fan of dungeon crawl boardgames like Hero Quest, Advanced Hero Quest, and Warhammer Quest (which I consider to be the three classics of the genre), but the one thing that annoyed me with these games was that their campaign rules were lacking; due to a lack of granularity, players very quickly got to a level where they were so powerful monsters could only hit them with en obscene amount of luck, and dying was out of the question anyway. On the other hand, my experiences with real RPGs like D&D 4E taught me that combat (which is an important part of dungeo crawling) shouldn't be so detailed that it takes an hour to resolve a small skirmish. What is needed is a balance between both worlds.
What I have in mind is a ruleset that combines the best aspects of D&D 5E for combat rules and general skill checks, Advanced Hero Quest for dungeon exploration, and Descent: Journeys in the Dark 1st Edition for it's slick action-oriented gameplay. I already made a bunch of notes that describe the general outline of how things will work.
A character has three attributes: Health, Magicka (Mana) and Stamina. These fluctuate during gameplay depending on certain events. Health points are lost when a character is hit during an attack. Magicka is spent for casting spells, and stamina is used for moving faster and power attacks. Some heavy weapons also cost stamina just to attack normally with them. A character can rest at any time, meaning he forfeits his actions for this turn to replenish a number of magicka and stamina points. Potions are available as a backup, but they are fairly rare.
What really defines a character are his skills. These are basically the attributes from D&D, meaning they have a value of 1 to ~20 and a resulting modifier that gets added to a D20 roll when a skill check is made.
There are also perks. Each character starts with one or more racial perks (fire resistance etc.), and skill-based perks can also be chosen when a character reaches a higher level. Some perks can be taken more than once to make them more powerful, and some become more powerful on their own when the character reaches a certain level threshold.
Perks, along with equipment and spells, are represented by small cards. I like having lots of physicsl components on the table. It gives players a better sense of their achievements if the legendary sword is depicted on a card in front of them, instead of just being a line of text on their character sheet.
Speaking of which, here is what I cam up with yesterday:
Here are some cards for perks, spells, and equipment.
Some cardboard miniatures: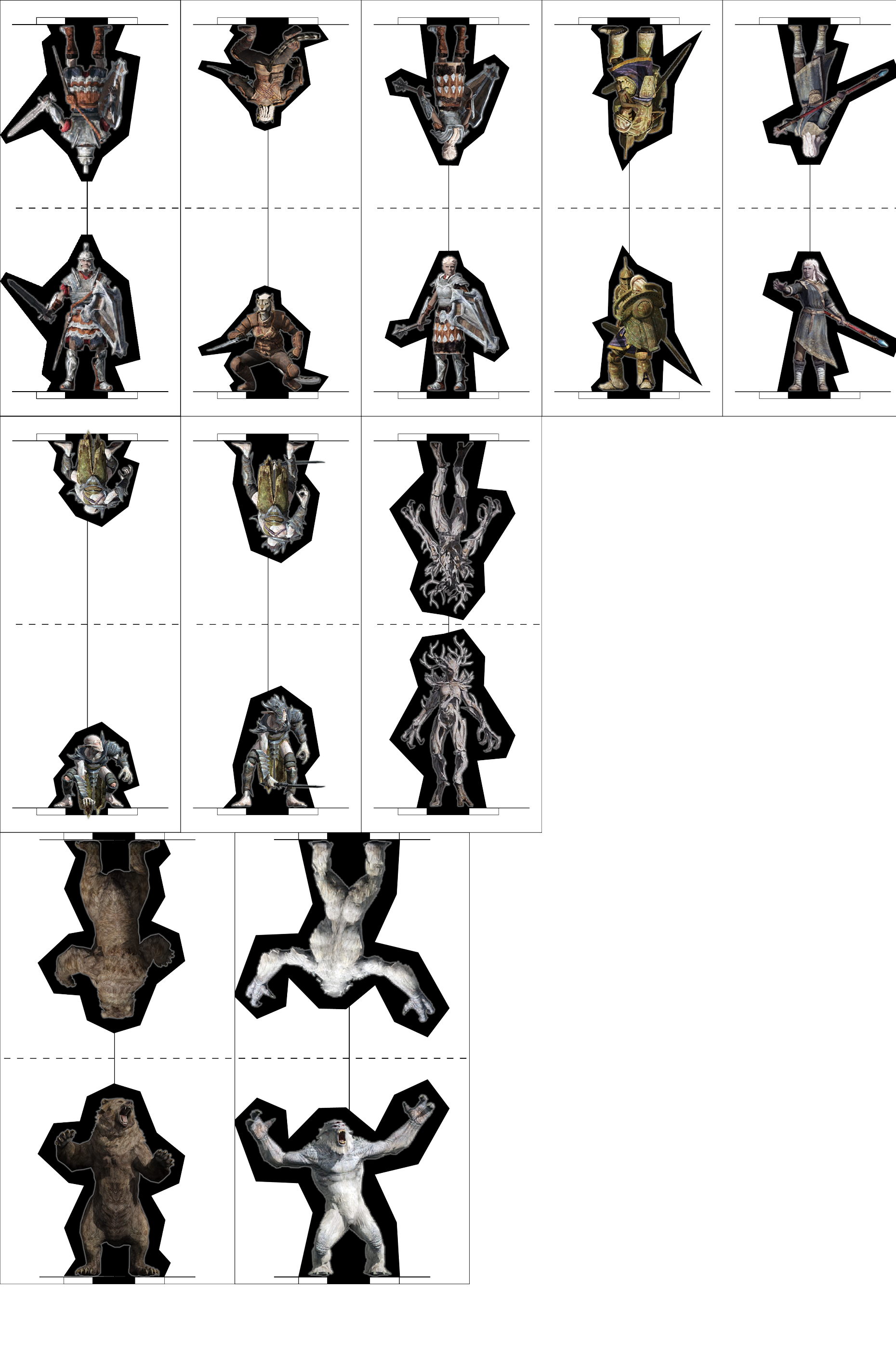 A floor tile I quickly assembled, depciting a nordic ruin/tomb: