Post by uptrainfan89 on Mar 22, 2016 15:48:30 GMT -9
Thaught I'd post a few pics of projects I've been building for my upcoming Dragon Age campaign!
Edit: Also here is a very rough draft of the background all the players will get with a map and key locations:
Thedas a land where its races have enjoyed peace and prosperity for hundreds of years now stands on the brink of war and destruction. Reports from outlying villages in the Korcari Wilds, bordering the Uncharted Territories, have recently reported events and signs of a Fifth Blight happening to the south, an event that many have feared would one day return to the lands threatening everyone in it once again. Reports have indicated there appear to be more coordinated and frequent attacks from a tainted and growing ancient evil known as the Darkspawn, leading many to believe an Arch Demon or more may be behind the attacks and growing threat it brings with it.
You find yourself in the land of Ferelden, a land of Thedas, at a Dalish Supply Camp. Mages having completed the Harrowing and now a part of the Circle as an apprentice of magic, Warriors having undergone there Initiation and Training to become skilled fighters, and Rogues having spent many hours training and honing there special skills, all having answered the call from the Grey Wardens to fight the growing threat the Darkspawn posses. You spend the day at a Dalish supply camp just west of the town of Tristen and the Thornwood, a wooded area that follows the Ghost River and borders the Brecilian Forest, gathering supplies and equipment and preparing for the journey ahead that will prove you are worthy of the Joining Ritual to become a Grey Warden!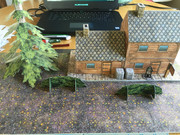 Welcome to The Fat DragInn (I couldn't resist, the name just kinda stuck) best place in the Realm to find good food, company, rest and Gerrick the Innkeeper will always greet you with a warm welcome!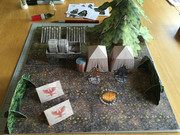 Here we have the Dalish Camp just West of the town of Tristen, The Fat DragInn, and the Ghost River! A great outpost to gather information, rest and resupply!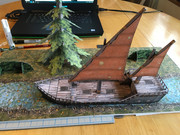 Here in my Mercenary ship following the Ghost River which runs through the Thornwood Forest by The Fat DragInn!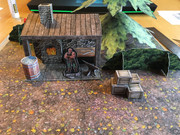 Here we have Leorin the Blacksmith managing his workshop Thornwood Smithing, (I managed to get him to stop working for a min to get a pic, lol) just down from The Fat DragInn! Leorin may have a small shop but people come from all around for his craftsmanship!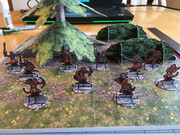 And who doesn't like Kobolds, they like parties (pun definitely intended), great conversationalist, and always bring many friends!
These are my Copper, Silver, and Gold Coins I got from Campaign Coins! I have 10 of each denomination (1, 2, 5, 10, 20, & 50) except for the 1 denomination, I have 20 of each of those! These are definitely some neat metal coins!
Gotta keep an eye out for those mercenaries, they will go after anything to make a few quick coins!