Post by aaron on Aug 7, 2016 18:41:45 GMT -9
For anyone who's interested I will be posting updates to the Splinterwoods stuff here .... I have been working on Faileen elves (Dark Elves)
I am making a comic I am hoping to release on line and it will Focus on the Taindwin House on the continent of Faileen.
so here a refresher for anyone who's interested.
the world is Isadell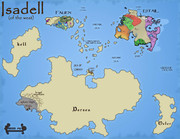 in the north of the map is the small continent of Faileen (Yes I know it's spelled wrong on the map I'll be correcting that later LOL )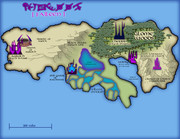 Faileen is the home of Erassabeth she's the biggest bad ass of them all and everyone respects her authority and is scared of her because not only is she neigh unto Godlike powerful but she's bat Sh*# crazy
in this scene she is calling together the 20 legendary Lords of Faileen. Each Lord has their own District and specific function in Faileen society.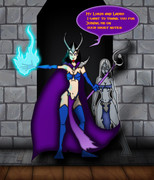 yes Erassabeth is over sexulised ... it's on purpose, and even she is aware of it using it to her advantage.... she explains the whole thing so I won't here LOL
here are the districts of Faileen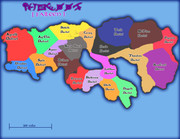 and here is the first of the legendary lords of Faileen !!
Lady Drezdain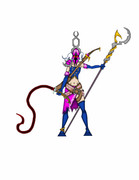 Lady Drezdain is the keeper of the tombs of magic, second only in skill to Erassabeth herself(though it's not a close second) she has been charged with teaching magic to the haggs of Faileen. In times of great duress she will enter combat, as a general and when she does, she is decked out with three arcane weapons of tremendous power, along with armor pieces imbued with magic few people can possess, let alone bend to their will.
Lady Drezdain carries Alkiers staff of blight taken from Alkier himself after she defeated the legendary Necromancer and bound his sole to the staff burning his body so he can never return. the staff has tremendous powers of mind control and blighted magics that with the unwilling help of Alkier Drezdain can unleash unstoppable spells.
Lady Drezdain also wields Kazark's whip of thirsting. this wip is known for it's unquenching thirst for the blood of it's victims. once you have been struck by the whip it will seek you out with all fervor until it has absorbed your life force. and finally she carries on her back the Vermillion sword known as the bleeding thorn. it's one of the lost relic blades of Corvey. Even Lady Drezdain is loath to draw the crimson deep fire blade. when she does she is lost in a fury of bloodshed that will only end when there is nothing living around her. she has only used the blade on three occasions each time the slaughter it unleashed was unbelievable, only ending with the blade pointed at herself and only through a tremendous force of will was she able to keep from throwing herself on it's Thirsting edge. Just starring at the blade makes you beg for the sweet oblivion of it's kiss.
in game terms Lady Drezdain is a level 10 Arch Mage with legendary stats. She can only be taken in a pitched battel and only if you are playing 2000 points or more. she has a casting threshold of 50 and comes with a boat tone of spells. she has commanding presence and can prevent units from routing with mind control or break units accordingly. her wip allows her to hit everyone in base contact with her and for every successful hit she can roll another attack, she can do this indefinitely until there are no enemies in base to base with her. If she chooses to use the sword she must pass a willpower test or be lost to battle frenzy. If she is lost to battle frenzy (throwing herself at the closest enemy unit and attacking teh crap out of it ) then on her next turn she must pass a will power test, if she passes then she's mastered the sword and may attack as normal if she fails the second time she will fall into blood lust (throwing herself at the closest unit and attacking the crap out of it generating more hits for each successful attack ). if on the third turn she hasn't passed a will power test then she throws herself upon the blade and is taken out of play. why would you even use the sword? because it gives Lady Drezdain 8 unsavable attacks that will instantly kill what ever she's attacking so, Troops, Trolls , a greater green Dragon it doesn't matter the sword will instantly kill them. But the swords will is strong and it's very likly she will loose control of it.
There are 17 more Legendary Lords, I have 10 of them drawn and scanned but not colored yet. Each Lord will get one or two special units they will all contribute to the over all Faileen army. So that means the SplinterWoods Dark Elf army will have over 20 units to choose from when building your army.