Post by mproteau (Paper Realms) on Sept 28, 2016 6:56:40 GMT -9
I love my collection of RPG books - I much prefer taking up table space and leafing through things than having PDFs. Just more fun for me. I had been eyeing Lulu for a while, wondering how hard it was to put together a print-on-demand book, how expensive it would be, and ultimately how good it would look. I finally gave it a go, and here's how it turned out.
First, my plan was to use the freely available D&D 5e rules. Combining the latest player's and DM's guides for the basic rules, it came to about 172 pages. I took each PDF and printed them out using a PDF printer. I removed some of the trailing pages I didn't want/need (ads, character sheets) in the process.
I created a new project at Lulu - I actually started by creating a project with color pages. I uploaded the two PDFs as separate files. They go and convert the PDFs into a single file for the book, resizing if necessary. They give you a chance after each upload step to download the results. I could have created my own cover, but I found a suitable one someone else had already whipped up online. I probably should have made my own, double-checking that it lined up with the template they provide. Because the image includes the spine, and that depends on the number of pages, the size of my book probably varied a little from the one the cover file author made. In any case, it worked out ok enough...
I found their website to be dreadful. Everything was terribly slow, and on occasion, it would finish churning and leave me at a blank page. This happened several times. Sometimes it would resume where I left off when I reloaded the page, and sometimes it would start me back at the beginning. Eventually, I had done it enough that I knew exactly what to specify and when. In the end, the full-color 8.5"x11" book was going to be something like $45, which seemed pretty reasonable! I decided to go for a black-and-white book, however. I saw no option to create a new project based on an existing one. To make the black-and-white book, I had to start over from scratch. This took four attempts before the settings actually stuck. The black-and-white book (the cover is still color) came to only $16. That seemed like a bargain for a one-off printing!
The order was placed on the 16th, and it arrived 10 days later. It was plastic-wrapped against a cardboard backing, and the whole thing was snugly packed in a cardboard box.
Pictures! Here's the cover: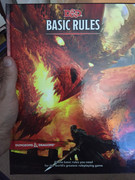 It's lovely! Here's the spine: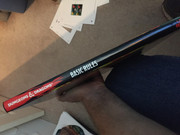 You can see along the top edge that the image wasn't quite large enough. Here's a shot of the binding: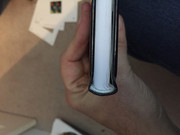 It's a little rounded, unlike the real books. I have no idea how well it holds up. But, reading through it, the print and pages are very nice.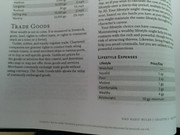 Full-color is a lot more expensive, but I think it uses heavier paper. For $16 plus tax and shipping (my total was $21.79) I am thrilled with how it came out. Now, you are NOT allowed to share the Lulu project so others can order a copy, even if you are making $0 on it. However, this falls under "personal use" if you print it out yourself. I think the same goes for just about any PDFs you may buy through DTRPG, for example. I have been enjoying buying a lot of RPG books over the last couple years. I might opt to pick up PDFs of the old modules, though, and get them done up as soft-cover or hard-cover books. I'll double-check with DTRPG before I do, though.
Looking at the 8.5"x11" book styles they do, you can get a 40 page saddle stitch book done up for about $4. Full color is $10. A "perfect bound" book is under $3 for black-and-white, and about $9 for color. They do coil-bound as well. No clue what effort goes into the formatting of the PDFs to use those different binding systems. It looks like I could have switched my hardcover book to a softcover version and had it printed up for a mere $6.50.