Post by jeffgeorge on Mar 17, 2017 0:15:06 GMT -9
TL;DR:
I finally have
the website where I'm developing my fantasy RPG
rule system ready for people to see. Drop by and check it out!
---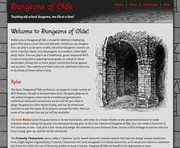 I realize the last thing the world needs is another fantasy RPG, but I started making notes on what has evolved into the
Dungeons of Olde RPG
in about 1988, so it's about time I finished it...
To that end, I've spent a bunch of time over the past two or three weeks overhauling the rule system and the development website, and it's finally at a point where it's ready to be seen by other people. If you're interested in looking over one more fantasy heartbreaker, check out the rules at
Dungeons of Olde
. I've also created a permanent home for the Dungeons of Olde modular papercraft tile set there, too, in the Resources section.
The original working title of the game, from 1988 until I last worked on it in 2002 or so, was "Funny Fantasy" (or "Phunny Phantasy," depending on how funny I was feeling on any given day), and what I was trying to do was a fast-and-loose fantasy game that was sort of D&D meets Toon. We'd been playing the old Milton Bradley HeroQuest after work at the time, and I wanted a dungeon-crawler that was more open-ended than Hero Quest, but less burdensome to GM than a traditional RPG like D&D or Hero System. I was away from tabletop gaming for most of two decades (first it was my business, then WoW that kept me away). I had no idea what was happening in RPGs for most of that time, until I started showing up here last year.
My plan last year was to work my system up into a gamemaster-less tabletop dungeon crawler like HeroQuest or Descent, but with richer characters and a bit more tactical and mechanical crunch. I was actually searching for HeroQuest rules and scenarios online when I tripped over this forum as well as DriveThruRPG. Darkfast Dungeons was my first real purchase on DTRPG (Hi,
okumarts
!), about the same time I discovered DM Scotty and
wyloch
on YouTube. Darkfast and Wyloch are the direct inspirations for the Dungeons of Olde tile system--I wanted 2.5D tiles that I could play Darkfast with. (My first prototype tiles were 4x4, not 2x2, incidentally, since I was trying to play Darkfast with them.) Afraid that my rules were unnecessary with Darkfast in the world, I concentrated on the tile set last fall, because I thought I had something new and worth pursuing in them.
Once I had the tile set figured out, though, it had evolved away from Darkfast's 4x4 system, and I took another look at my own rules set. While I love Darkfast (and I've bought every title in the line), it doesn't really scratch the exact itch that I was feeling when I blew the dust off my notes a few months earlier. I have a set of things I want in a game (which will undoubtedly be a blog post on the DoO site some day), and I haven't ever found one system that had them all. I'm not sure that Dungeons of Olde will pull it off, but if I don't ever finish it, I'll never know.
I probably missed any window my game ever had for finding any significant audience, but I have two good reasons for trying to assemble those old notes into a playable game: First, I just want to see if I can write an RPG system that's worth playing, instead of just griping about how much I hate the d20 system, and second, I wanted a project that would give me meaningful content for a large-scale web development project using GitHub and Jekyll. Yes, the DoO website
is
the actual developmental rules repo as well! To avoid having to constantly update a rules .pdf, I've written media queries in the CSS for the site to make pages printer friendly--if you right-click any page to print from the browser, the page will print just the content (text, tables, illos) reformatted into two columns on a letter-sized page, with the website's header, footer and navigation bars removed.
Anyway, if you're at all curious, please click the link below to go see the website. The core system is there and playable (or at least playtestable); I need to get a character sheet or card added to the resources section, and maybe write up some sample characters and monsters, to make it quicker for folks to actually play. I have notes on the magic system, but they'll take some time and additional thought before they're ready to be shared. I'd appreciate any feedback on the system and/or the website as it stands, though. Before the weekend is out, I should have the comments working on at least the blog section of the site. I originally set up Disqus on the DoO site last fall, and I haven't double-checked that it's working yet. Until that's fully operational, if you have any thoughts, you can just post them here.
Thanks in advance for your time and feedback.