Post by Vermin King on Aug 8, 2018 15:07:29 GMT -9
I started this WAY too long ago,
cardboard-warriors.proboards.com/thread/8981/mental-block
Amongst all my other incomplete projects, I think this may be the one that can possibly be done for Papercuts 2018
For those who don't want to read the other thread, I was watching a Harry Potter marathon on HBO or some such, the first time I'd seen most of these movies without commercial interruption, so I remembered the Hagrid Hut that was scaled to go with the Hogwarts paper model. So, I decided I could do it better and for RPG scales. Then it got involved.
The original model is hardly recognizable any more, other than that the two models are obviously of the same subject. Walls are more vertical, chimney straight up and down, fixed the roof and the entry, retextured the whole thing, inset entry on the shed, etc., etc.
At this point, I still am adjusting the original steps so that I can get the geometry right, and then I'll replace them with steps of my own design.
The inspiration is this photo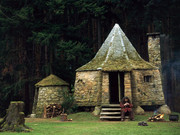 While working on the backdrop last night, I found another photo with more unobscured trees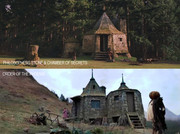 I've grabbed some of these trees to fill in where the hut obscures the forest. Also found some photos of forest lakes with some additional unobscured trees. That is going to be a slow process to be done at the end. As well as doing some additional lived-in pieces, like the tree trunk, cauldron, etc.
Even though Dumbledore isn't in this scene, I've done a figure of Dumbledore. Of course I have Hagrid as a seated figure on the steps. And totally different movie (and hut), but I made a Buckbeak figure.
Hut (except for the steps) is done. The little shed is done. The ground tiles are done. The mound is done, but may need to be shorter. Footings are done. This might possibly get done by the end of the month. Depending on how jury duty goes next week...
Printed out the three pages for the buildings, footings, miscellaneous stuff and the 'placeholder' steps, and as I was scoring, noticed that I did not widen the back border on Buckbeak. Fixed. I'd hoped to get some actual construction done tonight, but I'm beat