Post by gloriousbattle on Nov 8, 2018 18:17:24 GMT -9
Okay, this topic is not, I repeat NOT here to jerk anybody's chain. I am simply offering my thoughts about what I think is and is not important where paper figures are concerned. It is meant to spark discussion, not open war. If the mods think it is too controversial, please chuck it to the dustbin of internet history, but I really would enjoy a friendly discussion of this subject.
To begin with, please have a look at these fine fellows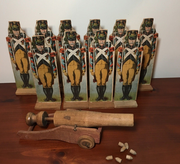 Stalwart heroes of the Empire one and all. However, what they are not is realistic. Why is fairly obvious: they don't need to be. These are gaming pieces, pure and simple. Their job is to stand at attention, and move around on the battlefield in a game of "Floor War" or Playing H.G. Wells' rules, or something similar, and eventually get shot down by that villainous salt petre… uh... rubber band cannon in front of them. For this they were intended, and I'm sure that, fifty to a hundred years ago when they were made, they did the job eminently well, and with great courage and panache.
So what is different about our paper men today? I would VERY RESPECTFULLY submit, absolutely nothing.
In fact, I think we all tacitly agree to this. Thus, the popular style for our paper figures is a fairly cartoonish one. This from Patrick Crusiau's various fantasy, sci-fi and historical figures, to the One Monk Pieces, to the hoards contributed by so many site members. In fact, I would submit that the figures that seem the most popular today are actually considerably less realistic than the valiant heroes I have pictured above.
And yet, there seem to be some conventions that are demanded on this forum in the name of realism that really don't end up making the resulting figures any more realistic. My example would be the requirement for fronts and backs on each piece. I'm curious where this got its start.
I would only be pointing out a truism if I say that, since it is impossible to see both sides of a two dimensional figure at the same time, then as long as the figure has an obvious front and rear, why be concerned about whether it has an actual front and back?
Admittedly, I can see some reasons why this might be preferable. For example, a knight with a shield might seem a bit disappointing if we only had mirror images of him from right and left, and, if the image only showed a partial view of the inside of the shield, we could never see his heraldry. For similar reasons, if we want to see such details as canteens hanging from the belt, or scrolls busting out of the wizard's backpack, or the rest of said wizard's familiar, who's head is peeking out from behind his leg, only a true front and back makes this possible. And, of course, a true mirror image does not work if there is writing on the figure anywhere, as with a Roman aquilifer carrying a standard, lettered "SPQR".
However, the false left and right (mirror image) school also has its advantages. An obvious one is that it is easier to manipulate the figures in a drawing program. However, what really gets it or me is that, since, again, we are talking about true two dimensional pieces, it is impossible to see two opposing figures actually fighting/facing each other unless the drawing is done left and right. While true left and right can certainly be done, still, the rule here seem to be that all figures must have a front and back, which leaves me never seeing my figures facing their enemies. At least, never face to face.
Curious as to why?