Post by Gentleman Ranker on Aug 10, 2020 10:06:26 GMT -9
Today, on the dining table battlefield, it was 1879 and the mission station at Rorke's Drift came under attack from cardboard Zulus!

I've been preparing for a game against my aged and venerable opponent for several weeks.
I'd acquired a ruleset; "The Natives are Restless Tonight" by Matakishi's Tea House.
For weeks I've been using my odd half hours to put together stands of Zulu bases, using OneMonk outdoor bases stuck to 120x60mm cardstock covered with the same battlefield texture.

Ten stands of IzImpi, Four stands of Rifle Zulus, Two IzInduna Command Stands.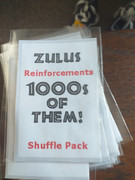 The figures were a mix, with the majority of the British 24th Infantry and about half of the Zulus coming from the MIP#9 download here. The other half of the attacking Zulus came from Junior Generals.
The buildings were scratchbuilt. They were based on measurements from the rules which includes a good rundown of how to build them. However in the rules they were built out of chunky chipboard and mine were cardboard. For every joint and corner, where the author said 52mm I had to check to see which wall was butting up against the inside of which to see what thickness of material was being allowed for. The walls were scrap cardboard, the bases were thick corrugated. The wall texture was ripped up pieces of stone wall texture with plain printer paper over the top; with holes ripped in it to reveal the stone texture; in the hopes that it would look like flaking plaster over stone. The roofs were thatch texture from HeroicMaps free roofs pdf off Drivethru an exceptionally useful product. I don't think they're on here are they?
I've got seventy blurry phone camera pictures to sort through. Hopefully I'll have at least one good shot of the buildings to show in the report

!
The rules contained several pages of cards to print out. They were folded and put in card sleeves and I made a box to put them in. I used some of
Crooked Staff
's
kris
print and play textures to make a dozen sections of Biscuit Box wall and the sack making texture and video to make mealie bags. Some of which went on as detail to make the wall look better and some of which were used to make four quadrants of Mealie bag wall to make up the mealie bag redoubt.
Hopefully this will show up better in the potos to come in the battle report to follow.

Set up took an hour or so.
We played for an hour or so before lunch and another two and a half after.
It won't be blow by blow but full Battle Report tomorrow.
GR