Post by Gentleman Ranker on Oct 9, 2020 7:07:22 GMT -9
I put together two 300 point warbands for Song of Blades and Heroes for a game with an aged and venerable opponent.
The scruffy highland band comprised 6 highland Caithearn warriors (equivalent to human militia, a mere 15 points each and honestly, a bit rubbish), 4 Caithern with assorted missile weapons (as Human Light infantry), Big Mad Angus (a Human Barbarian Warrior) and the Laird (a Human Leader). With 12 figures, it's fair to say they relied more on quantity than quality.
The Catanach's were
Antohammer
's Scots/Irish Kerns (mostly from the Axes and swords set but one from the spearsmen). The light infantry were from the new quickstart set, with the addition of a wee slinger lassie made by Antohammer for my previous solo highland fling!

Big Mad Angus was from Antohammer's Fantasy Highlanders set, which may be one of his sets that's only at Wargames Vault, not Drive thru RPG. The Laird was an Imperfect Noble from Dryw the Harper, downsized at 87% to fit in.
The opponents were a smaller and more ruthless elite. Vicious mercenaries under the command of Sir Ector. Three longbowmen played by Antohammer's Generic Medieval Longbowmen, three Men at Arms played by
distrigillator
's Road of the Apocalypse Settlers - Men at Arms Demo set. Sir Ector was an Imperfect Soldier from Dryw the Harper.
AVO selected the Highland Band so I would be playing the Medieval Mercs.

We played on a battlemat of tiles from
kris
(Crooked Staff)'s Wilderness Map 1 and my AVO, as the Defender, placed 1 additional piece of terrain, a @dave Graffam Crosspiece ruin in the Stone texture.
The Highlanders began in a clump, to the AVO's right centre, with the Laird at the front. I split my forces with the Longbowmen on my right and the Men at Arms with Sir Ector on my left opposite the rag tag band of highlanders.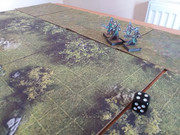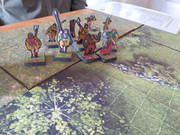 Both sides began by using free moves to position their forces. I dashed forward with my Longbowmen, taking position behind and to the side of the ruin.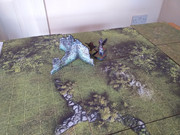 I hadn't used the rules for Leaders or Group Activations before so I took the opportunity to move my Men at Arms forward as a group to the side of the central stone rubble. Unfortunately Sir Ector needed to tie his shoelace and was forced to hold back behind them.

The Highlanders took a group activation as well. Throwing a clump of Catenach at my leading Men at Arms.

I sniped ineffectually from Long range at the highland stragglers.

The highlanders enveloped my leading Man at Arms but were unable to do much damage. A highlander struck at one of my Men at Arms and was knocked down.

So far so good.
Or so you'd think.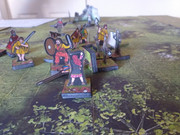 I knew it was a bad idea when I did it but complacency made me think, "oh, it'll be fine". Completely unnecesarily I moved up Sir Ector and attacked a stray Caternach with an axe on the outside of the attacking bunch.
One bad roll.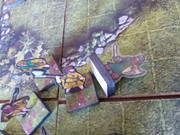 That's all it takes.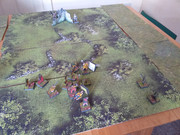 Sir Ector was down and my turn was ended. My opponent rolled for activations. He went for two with the axeman who could end all my hopes and blew it!

I had a lifeline. From out of nowhere. A lifeline I porobably didn't deserve. I needed to ensure that Sir Ector could get back up. I took two dice for the activation. It didn't matter if I only got one, I just needed to get him on his feet to recover from that moment of madness.
Two fails. Ha!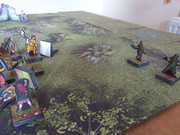 My opponent activated the Axe weilding Caithearn and beheaded Sir Ector with a single blow. Aargh! Gruesome Kill.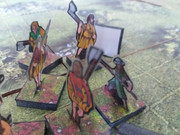 My three Men at Arms who were closest, all had the FEARLESS special ability and thus were not affected by Gruesome Kills. They'd still have to roll for the loss of a leader but, one thing at a time!
My most forward placed Longbowman, who'd edged forward to snipe at the Laird, was within one LONG movement of the Gruesome Kill and had to roll. He failed and fled but didn't reach the table edge.

My two other Longbowman failed a little and fled towards the nearest table edge.
My two Men at Arms behind the point of the wedge, each failed twice and moved back out of combat and almost to the table edge nearby. My one Man at Arms in combat failed and had to attempt to flee. Severely outnumbered and with a -4 he rolled and was cut down as he turned to run!

It was still my AVO's turn. This all happened during that one axeman's activation!
"May as well, I suppose" he smiled and took a shot at my Longbowman fleeing for the highland base line. Doubling my score and shooting him in the back!
I took the following shot. "Just documenting your war crimes"!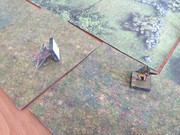 It was effectively over. When the turn-over came, I changed direction to get my surviving troops off the board over their own baseline. The Highlanders held the field and scored a decisive victory.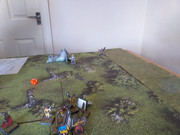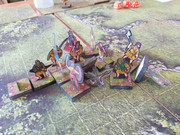 Another really enjoyable game! I'm really enjoying Song of Blades and Heroes.

I've been inspired to buy and make up some terrain pieces and even the AVO is slowly losing his aversion to (phobia of?) fantasy!

You never know, I might get to use some Undead or a wizard soon!
I'll be making up a couple more warbands in the near future so that we can mix and match and do this again.
Let the good times roll!
GR