Post by Dave on Nov 20, 2009 14:14:42 GMT -9
The Asylum is now available to download, along with many other medieval and science fiction papercraft models from
DavesGames.Net
!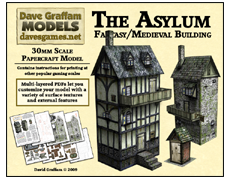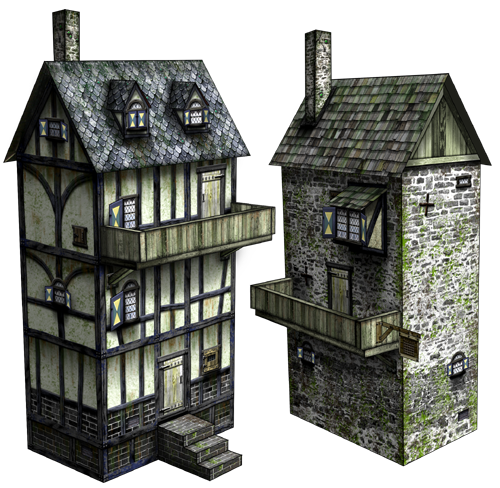 This is 30mm-scale terrain for wargaming, roleplaying games, model railroads, class projects or just for fun. Assembly is quick and easy, requiring just a few sheets of cardstock, a sharp hobby knife and glue.
MULTI-LAYERED FILES:
The PDFs included in this model set are multi-layered and contain a variety of surface textures and external features that you can customize with the click of your mouse. Each model can be configured in countless ways before printing, so what you're really getting are many models in one! With this one model you'll be well on your way to constructing a complete medieval or fantasy town.
Full instructions are provided, including printing tips and advice for printing at various popular gaming and model railroad scales. These files are 200dpi, which will look great when printed at full size without requiring large file sizes. You'll need Adobe Acrobat Reader 7.0 or later in order to use them, and the multiple layers may take additional time to render, so be patient while your images load onto the screen.
DIMENSIONS:
This Asylum has a footprint of approximately 2.5" x 4.5", although it includes optional stairs that will modify the footprint somewhat. The model's height is approximately 9", not including the chimney. In all, to build this model you will need 5 sheets of cardstock (or 6 sheets if you want to print the optional page of reinforcing struts).
CONTENTS:
This model features base textures give you a choice of stonework or plaster-and beams, and you add black bricks along the ground or a wooden attic. You'll find that you can create lots of different looks by selecting or hiding the heavy beams; 2 choices of roof tiles; a 6" x 6" ground tile with a choice of 2 styles of paving stones; an outhouse; several chests and wooden crates; chimney with a choice of 2 mounting locations; 1 or 2 large optional balconies, each with enough room for 4 minis; 1 or 2 optional exterior dormer windows; 2 optional roof dormers; a hanging sign featuring a 'barred gate' design to let you know that you won't be going home once you pass through these doors; a selection of optional doors and windows, including shutters you can apply yourself (so they'll swing open and closed). There's a short flight of stairs (with a choice of 2 textures) to enter the building, as well as an optional door on the ground level; and an optional sheet of reinforcing struts that you can place inside the structure for additional support.