Post by Dave on Dec 9, 2009 18:51:04 GMT -9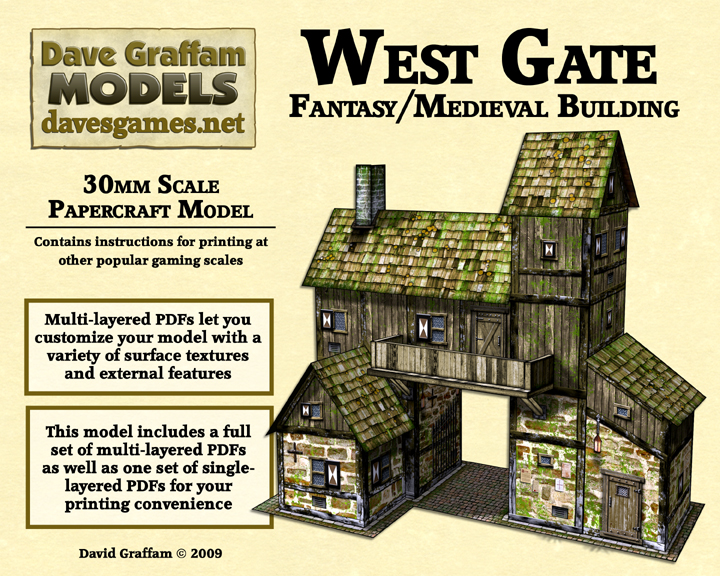 This is 30mm-scale terrain for wargaming, roleplaying games, miniature dioramas, skirmish games, model railroads, class projects or just for fun. Assembly is quick and easy, requiring 7 sheets of cardstock, a sharp hobby knife and glue. The West Gate will make a great centerpiece for your village layout, acting as a toll gate or checkpoint between the districts of your medieval town. By cutting out the middle of the ground tile, it could also span a canal or small river. It's easy modify and combine this model with any other papercraft models, creating all-new structures for an authentically jumbled medieval appearance.
Assembly instructions are provided, including printing tips and advice for printing at various popular gaming and model railroad scales. One of the great things about papercraft models is that they can be printed at any popular gaming scale quite easily, so this model can be used for 28mm, 25mm, 20mm, 15mm scale and smaller. These files are 200dpi, which will look great when printed at full size without requiring large file sizes. You'll need Adobe Acrobat Reader 7.0 or later in order to use them, and the multiple layers may take additional time to render, so please be patient while your images load onto the screen.
MULTI-LAYERED FILES:
The PDFs included in this model set are multi-layered and contain a variety of surface textures and external features that you can customize with the click of your mouse. Each model can be configured in countless ways before printing, so what you're really getting are many models in one! With this single model you'll be well on your way to constructing a complete medieval or fantasy town.
SINGLE-LAYERED FILES:
For your printing convenience, this model also includes a full set of single-layered PDFs with one appearance.
DIMENSIONS:
The West Gate has an L-shaped footprint of approximately 10.2" x 5.1" along its longest edges. Its height is approximately 9.25", not including the chimneys.
CONTENTS:
This model features base textures with a choice of gray stone, red stone, wood upper levels, beams, with optional layers of heavy weathering. You may easily add the optional windows, iron gates, shutters, doors, lanterns, public notices and royal insignia. Choose from 3 different colors of roofing shingles with optional heavy weathering and lichens. There are 3 different footprint textures to choose from, 2 types of chimneys with a selection of 4 locations, and 2 optional balconies positioned above the passageway on either side.
FREE ADD-ON FILE:
You can find a bonus PDF at
DavesGames.Net
that includes optional gate doors and shutters that you can add to this model. These pieces are designed so that you can open or close them, unlike the gate doors and shutters included with the original model. The URL for that file is here:
www.davesgames.net/papercraft/pdf/west-gate-add-ons.pdf