Post by Dave on Jan 11, 2010 23:27:04 GMT -9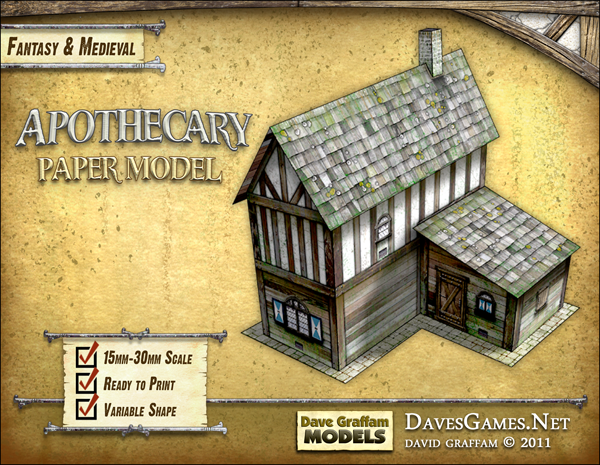 30mm APOTHECARY
This is 30mm-scale terrain for wargaming, roleplaying games, miniature dioramas, skirmish games, model railroads, class projects or just for fun. Assembly is quick and easy, requiring only 4 or 5 sheets of cardstock, a sharp hobby knife and ordinary paper glue.
This model offers lots of customization options! It's actually many models in one!
The Apothecary features a variety of PDFs that let you customize the look of your model before printing. Each component comes in more than one style, so creating your own unique designs is easy. Just choose your favorite configurations and print off as many versions as you like.
This model will be a great addition to any fantasy or medieval battlefield, street scene, village or skirmish setup. Just mix the different texture combinations and choose different facings when placing these models along your streets, and you'll be well on your way to populating an entire town with a genuinely medieval jumbled appearance. Scatter around several of your custom Apothecary creations to serve as urban houses, crowded taverns, dubious hostels, shops, restaurants, government offices, farmhouses, or many other sorts of buildings. It will also work great at a hermit's cottage, wizard's home, haunted house or other lonely dwelling.
You may also combine this model with other papercraft models to form your own buildings! With a little imagination, you can take just about any of my papercraft models and attach them to others. Models such as the Garden Shed and Rustic Cabin can be added as extensions on most of my larger models. To add some height to your town layout, you might choose one of the taller models such as the Asylum or Clock Tower. With just a few models, you'll have countless great-looking options for your town layout.
QUICK AND EASY SCENERY:
Simple assembly instructions are provided, including tips and advice for printing at various popular gaming and model railroad scales. One of the great things about papercraft models is that they can be printed at any popular gaming scale quite easily, so this model can be used for 28mm, 25mm, 20mm, 15mm scale and smaller. These files are 200dpi, which will look great when printed at full size without requiring large file sizes. You'll need Adobe Acrobat Reader 7.0 or later in order to use them.

SINGLE-LAYERED FILES:
For your printing convenience, the PDFs included in this file are single-layered. Each component is offered with 2 or more distinct looks, giving you countless ways to combine them to form your own unique structures.
CONTENTS:
The Apothecary is composed of 2 wall sections, the extension, chimney, 2 roofs, 2 optional wall dormers, and a ground tile. You get a selection of 8 wall sections, and since you only need 2 wall sections to create this model, this allows for 64 possible configurations for the main building. Also included is an optional extension section in a choice of 3 different textures, and you can attach the extension in your choice of 5 different locations. You get wall dormers in 2 different styles, 2 types of chimneys, 2 choices of roofing tiles, and 2 types of ground tiles.
DIMENSIONS:
This model stands approximately 6.25" high, not including the chimneys. The footprint of this model is highly variable depending on the customization options you pick, but the main building's footprint measures approximately 6" x 2.9". The ground tiles are approximately 6.5" x 6.5" square.
Be sure to visit
www.davesgames.net
to see my entire collection of papercraft models and upcoming releases.