Post by dragnoz on Jul 23, 2012 14:00:51 GMT -9

The first release for Black Sun Wars is the Human faction starter spaceship set.
The set uses a modular building system, scalable printing and multiple colour variations for most of the models that allows you to create a near infinite amount of ship variations.
Why modular?
We specifically designed the sets to be modular so that you can truly have a unique fleet, no matter how many friends or gamers own the set, we can guarantee that no two builds will be the same. Its real simple to use, all the components are created from mostly basic shapes that can be assembled in any way you see fit. You can even mix and max different ships components, for example just out of the Battleship we were able to create one large frigate and a battleship and used some of the left over pieces to add weapons to the freighter set.
Not a kit basher or modular player?
No problem at all, each ship comes with full instructions on how to assemble it to resemble the original design. But trust us…. You will very soon be printing it out and modding it because its just sooo easy to totally get creative and unique with your builds.
Is there a Black Sun Wars gaming system?
Not yet, we will shortly launch a kickstarter campaign to help raise the funds we need to develop the Black Sun Wars system as well as 3 extra factions.
The Starter set contains:
1x Battlecruiser
2x Frigates
1x Freighter
1x assortment of fighters
1x Stand and assembly instructions
It does not look like a lot but due to the modular nature of ships there is thousands upon thousands of assembly, colour and size variations.
A weapon and utility pack will follow shortly with the weapon stat cards.
Why is the frigates centred and only one per page?
This allows you to scale the model using just your printer settings, this increases the modular components available to build new ships.
Suggested Paper weights
Battlecruiser - 160gsm

Frigates - 120gsm

Freighter - 120 - 160gsm

Assortment of fighters - 80-90gsm

Stand and assembly instructions - 160gsm

Battlecruiser (length 20cm / 7.8 inches)
Frigate 1 (length 7cm / 2.7 inches)
Freighter (Length 14cm / 5.5 inches)
Frigate 2 & Fighters (Frigate Length 8cm / 3.1 inches, Fighters Length 1.3cm / 0.5 inches)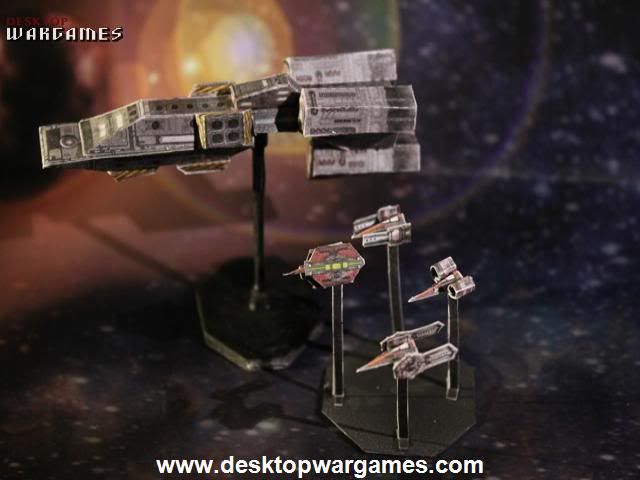 Alternative Builds for Battlecruiser & Frigates
Skill Level
Beginner - Intermediate - Advanced
1-2-3 ------- 4-5-6-7------- 8-9-10
Battlecruiser Skill levels
Cutting Level: 4+
Glueing Level: 4+
AssemblyLevel: 3+
Time: 2-3 hours
Frigates Skill Level (at 100% print size)
Cutting Level: 4+
Glueing Level: 5+
AssemblyLevel: 3+
Time: 1-2 hours
Freighter Skill Level
Cutting Level: 4+
Glueing Level: 4+
AssemblyLevel: 3+
Time: 1-2 hours
Fighters Skill Level
Cutting Level: 7+
Glueing Level: 6+
AssemblyLevel: 6+
Time: 1-2 hours
Stands / Supports Skill Leve
l
Cutting Level: 3+
Glueing Level: 4+
AssemblyLevel: 2+
Time: 1-2 hours
...and last but not least a little fun video that shows the scale and size of the ships
Did you know our Facebook fans get a 15% discount?
Not only will you get a discount for each new release but you will be able to keep up to date with all our latest releases and any new free models figures we release.
So follow us on Facebook:
www.facebook.com/DesktopWargames
Which systems are compatible with with this starter set?SPecial discount price for forum member only $7 please use following
link
bit.ly/OknwAd