Post by bravesirkevin on Sept 19, 2013 2:58:46 GMT -9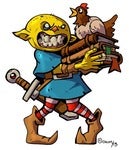 Yes!
I found my Hero in Okumarts' latest set (viley mislabeled as a "retainer") and now I've found my Erana's peace

Erana's Peace was always a big part of the inspiration for this... It took me a while to work out how to do the flowers, but I'm quite pleased with how they turned out!
But seriously, I love the diversity of paths available, the abundance of flowers (not what I was expecting, but I like it!), the increased richness of colour for the leaves (neglected to comment on MTv.3), and the EXCELLENT subtle grid which gives us a hint of where we need to be without obscuring your beautiful, hard, work on this terrific set.
Right at the beginning I flailed around trying to get this tile set to work. As soon as I added the first path it started to come together. Then I went and added another 20! The way they combined just opened up the set completely! The current mission is getting all the path layers I designed into the PDF. It currently has 73 layers, will have to have about 100 when it's done, so I'm adding them all in slow increments because I don't know how many more I'll be able to add before it stops working well... So far, so good though!
So this tile is all but done, and you are working on another? I think you say that it will be a new "page" but would you consider making it a separate PDF instead? I believe Okumarts found that two pages to one layered pdf was tricky with his Beast&Barbarians set. Me, I find that it takes my processor if I have too much going on, re-displaying every layer if I've got it at a high enough mag that moving to view the tile bring a new part into view. That can take a little too long to be negligible...
As of the Luxurious Lair set, I've taken to splitting PDFs to one page per file because the multipage files were far too resource heavy and slowed things right down when I had more than 20 layers on a given page. There will be at least 3 PDFs in this set with one page in each.
P.S. I'm glad that the ivy not only remained, but got it's own layer. I love the way it can be tucked into the rocks; in any case it's a great focal point.
Thanks! I love that Ivy too. If the PDF isn't choking on itself when all the path layers have been added, I'll probably add some alternative Ivy layers for a little more variety. Even if that's not a possibility alternative versions of the Ivy will show up on the other pages.