Post by Zsezse on Oct 22, 2013 12:59:43 GMT -9
Click
HERE
to check it out.


Description:
-------------------------------------------------
Add this Ground Set to your cart, buy it and you will get great half price coupon codes for the next products:

- Dark Crypts - Chambers #1
- Dark Crypts - Chambers #2
- Battlemap - Oargkan's Labyrinth
- E&I Wall Set
- Ekzis' Demonic Chessboard
They are the best products of ours that you can use for a creepy adventure.
You will find the codes in the order notes that you get via e-mail after you purchased this product.
(Expire date of codes and this deal: 2013-11-02)
-------------------------------------------------
Evilborough has never been a place like any others. It seemed as though the sun never shone here, eternal obscure and darkness covered the village. Twisted arms of dark trees stretched towards the misty sky.
One day a small group of people settled down by the village. It was an occultist group and they wanted to sacrifice children for an old and nameless god. The full moon rose and the ceremony began. But right before the first child would have been sacrificed; habitants had appeared from the village with scythes and pitchforks in their hands and killed everyone in the group. Their bones got scattered all over the valley and turned the area into a swampy place.
Pages of the calendar are turned over and here is Halloween 2013.
The swamp starts breathing, hungry for revenge.
This graveyard wants to live! Do not let it!
~~~~~~~~~~~~~~~~~~~~~~~~~~
With this set you will get 20 customizable tiles with switchable headstones, paths, pits, trees, graves and crypts.
You can customize every tile easily with buttons within the PDF files right before you print them. You will not get lost among the layers; you can switch any items by buttons. Thus you can build up your own cemetery and abandoned area the way you like.
This set contains:
-15 customizable road tiles with empty areas and switchable items like: graves, plates, pits, trees, bushes and other items
- two customizable lake tiles
- two crypts
- one small chapel
Image format: U.S. Letter, 200dpi, PDF files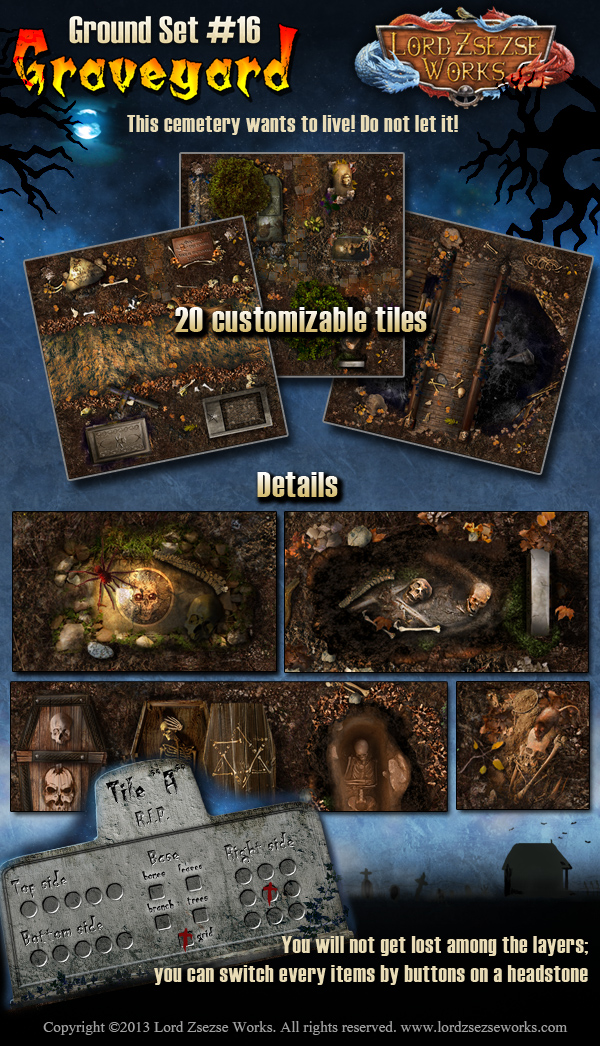 You need Adobe Acrobat Reader to use it.
You can downlad it from the
get.adobe.com/reader/
site.
If you like this product please write a review, if you have any problems or ideas send them to us by click the "contact publisher" link on the right side or visit our page.
For personal use only.