Post by bravesirkevin on Aug 29, 2015 23:08:40 GMT -9
The star of the show, The Magnificent Mister Molok!
Mister Molok calls himself "Magnificent" due to a mix of vanity, showmanship and a deep love of alliteration. It is never-the-less a most appropriate adjective for the gnome who certainly lives up to it! He is well-travelled and well-read and though he chooses to make his living as a travelling showman, he's actually an incredibly skillful engineer and a talented master of the magical arts, with a particular aptitude for illusion.

His travelling show is basically an exhibition of various interesting devices that he's created. There are curiosities like clockwork automata and dazzling pyrotechnic displays and there are a variety of toys and games that patrons can interact with. It's all very impressive and even the most jaded of patrons is awe-struck by the wonders they behold! Oddly though, the most remarkable part of the show goes completely unnoticed by everyone who walks through the door...

Though Mister Molok takes his show on the road, travelling from town to town, his exhibition is actually a permanent fixture set up in a non-descript warehouse in his home town. The gigantic pavillion tent that he sets up in the open fields outside the town gates is always completely empty and the doorway is just a portal that transports the patrons to the permanent exhibition hall. It's done entirely for practical reasons, - He saves a fortune by not having to pack and transport the hundreds of displays - but his main reason for keeping this part secret is simply that folks like the idea of him bringing the show to them, rather than the other way around.



Mister Molok activates a portal and makes his escape!
The adventure begins when the party comes looking for Mister Molok's help in repairing some ancient artifact in their possession. Mister Molok's always advertised his services as being available to anyone who is willing to pay the right price for them. What they haven't realised is that Mister Molok's quite the mischievous sort and the "right price" involves finding him in an interdimensional game of hide-and-seek! Touching a button on the curious duododecahedral contraption in his hand, the mirror behind him begins to swirl with colours... He vanishes into the portal and now it's up to the party to track him! Each portal leads to one of a different colour. Blue portals send them to green portals... Green portals send them to orange portals... orange portals send them to purple ones! Which portal is he hiding behind?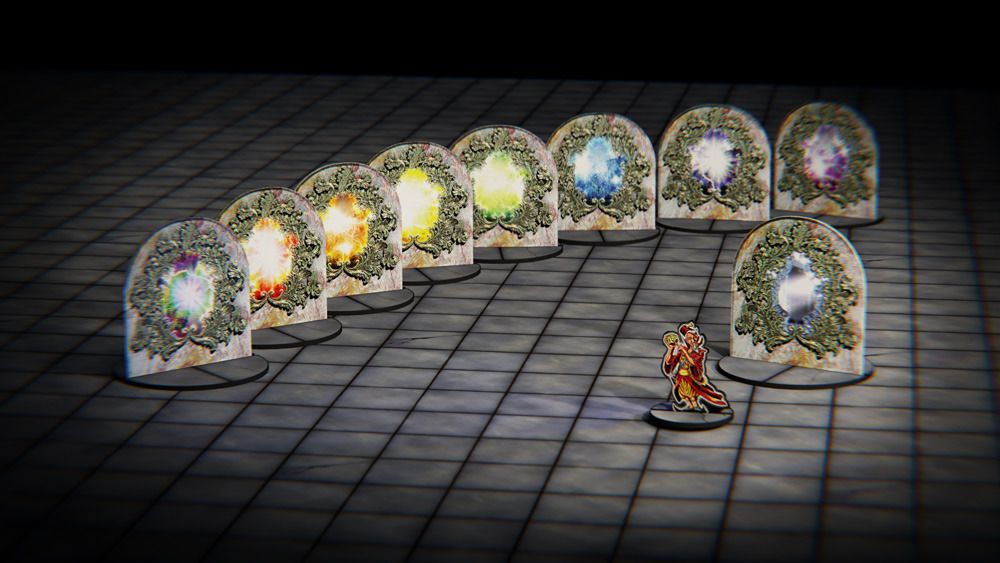 This entry into the Papercut awards contains :
• Artwork to make all 7 coloured portals
• Artwork for a prismatic portal
• Artwork for a mirror
• Artwork for a Mister Molok, the gnomish artificer, paper miniature.
• 50mm round Kev's Lounge Bases for the portals.
• a 25mm round Kev's Lounge Base for Mister Molok.
• Player hand-outs
• Instructions to build it all.


As with my other paper minis, the bases slide off allowing you to store all of these components in a photo album, or card sleeves.
I'm busy putting final touches on a scenario booklet that goes along with this set, which will include a "bare bones" system-agnostic adventure for RPGs, along with some scenarios for using the portals in skirmish games
,
but as time is running out and that's not necessary for the entry here, I present the set without it. There will be a full release of this free set which includes the booklet on
www.papercraftdungeon.com
and RPGNow next week!
Download