Post by sunraven01 on May 16, 2017 3:11:36 GMT -9
My brother is coming to visit mid-June and loves D&D, so I've promised to run a game for him. I haven't told him he'll be doing Tomb of Horrors (in a stripped down, less lethal grinder version because it will only be two players and over two nights). At the same time, I've been looking at converting some of my old terrain to modular dungeon tiles and it's pretty obvious by now I love
jeffgeorge's
take on the modular tile system, so this seemed like a perfect opportunity to chronicle my build and really give the modular tile system a workout.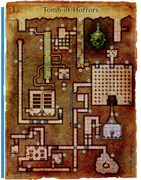 Except for the small area of caverns at the bottom right of the map, everything in the dungeon is rectilinear, so it should play nicely with the dungeon tiles, and the map is conveniently in a 1 square = 10 feet scale. Perfect, no half-tiles needed.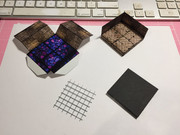 I have made some quality of life adjustments to my tiles over the stock build: the first one is to make the surface magnetically receptive. This is accomplished with a piece of 23-guage quarter-inch hardware cloth (available at any hardware store). The tile surface isn't strongly receptive due to the relatively low metal surface area, but it's just enough to keep a paper mini in place even if you hold the tile vertically, so it will provide a little resistance to being bumped on the table, which is all I need. This also, conveniently, brings the height of the tile up to one-quarter-inch, so the tile wrappers line up perfectly around the tile.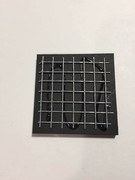 Next, I've also added rare-earth magnets and one-inch ring shank panel board nails to the sides of the tiles, making them snap together on the table, to make it faster to build. I'm not going to try and fit the whole dungeon on the table at once, just the encounter area the players are currently in, so being able to slap down tiles quickly is needed to keep the momentum going. I threw together a quick little card stock jig to make my placement consistent at a half-inch in from each edge, and as long as I'm careful and consistent to follow this pattern, magnet polarity is irrelevant, because the magnets are always meeting with a metal receptor.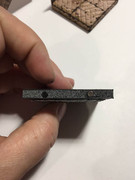 And, finally, there's gonna be a whole lot of Photoshopping to go along with the build. The dungeon is full of traps, and things like floor and wall appearances are important clues to the players. So, that said, here's the first 20 feet into the Tomb of Horrors, where a mosaic path begins to wend down the hallway. The stock image of the floor is that the path is red, but I have changed it to purple. The walls and brick floor are from World Works Games, the tiles themselves are Dungeons of Olde, the purple mosaic is from Glen McClune's Serpent Caverns, and the skeleton mini is from Printable Heroes.