Post by gloriousbattle on Oct 16, 2018 8:10:39 GMT -9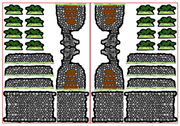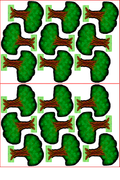 Okay, first off, I'm no artist, and don't pretend to be. I'm only putting these here because it seemed like the most appropriate place.
That said, they are workable. Simple, basic gaming terrain, most useful for fantasy, though effective for ancients through perhaps the pike and shot period at the latest. You just mount them on whatever you use to base your figures, with the exception of the bridge and the bridge extension, which just goes over the meandering blue strip of paper that makes up your river.
As to that blue strip of paper, I won't print out anything that is bigger than 8 x 10, as it is just too cumbersome and expensive, IMHO. Of course, you could print a river in sections, but then I think it clashes with the colored paper I use for larger areas of terrain. Thus, hills become brown construction paper, rivers are blue, and swamp is a darker green than the sheet I use to make the battlefield. Winter warfare is a few white paper snowfields for December, followed by replacing the green sheet with white for January and February.
This brings up a question: Do you mix 2d and 3d with your paper gaming?
I do not, as I think that, while there are some really nice 3d paper models out there, the whole effect becomes somewhat wonky. No insult intended to people who do it differently, and if you have such a mixed set-up that you think is really nice, I'd love to see it.
However, for me, and regardless of size (cannons, dragons, giants, King Tiger tanks, whatever), I think that at a minimum, a mix of 2d and 3d is distracting. I love the nostalgic look of a flat paper minis battlefield.
For other gaming purposes, such as dungeoneering, (whether in said dungeon, a lost and drifting starship full of crazy robots and alien xenomorphs, or as James Bond in the Casino Royale and similar) I stick to the same rule, though the terrain becomes a printed battle map (battle mat, if you prefer) with maybe some extra flat treasure chests, corpses of previous and (perhaps...) less successful adventurers, and the occasional evil, enchanted fountain flowing with blood.
In fact, the only 3d objects I will use in conjunction with paper gaming are dice (2d dice, also referred to as "coins" work, but they kind of limit your treasure and encounter tables) and glass gaming beads (red ones for hit points lost, black ones for tens of hit points lost (blood can get kinda icky when you lose too much of it), yellow ones for broken morale, clear ones for invisibility, and other colors for other spell and mental effects as necessary. However, here I think the presence of something 3d actually helps, as they tend to be few in number, easily identifiable, and, of course, represent the presence of effects only, as opposed to things that physically exist on the battlefield.
Again, this is not meant as a shot in the arm to others who do it differently, and I'd love to see your stuff.