Post by ignatious on Sept 1, 2019 5:11:05 GMT -9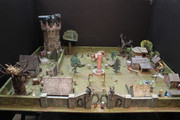 Welcome to Waltrendal's weird wild wacky wonderful way out world of wizardry.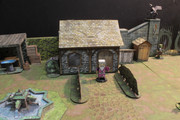 Wally is a wizard who has been around the block a few times (and by that I mean the world and centuries). He bought a never fully developed suburb on the outskirts of the city and turned it into a magical emporium. He painstakingly recruited/collected/nurtured some of the most talented individuals to help him in this endeavor.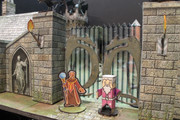 Now looking to expand he has invited his old friend and architectural wizard, Randold Schoold'em to explore the potential. Randy having helped with the original magical hedge design was eager to see what Wally had done with the place.
Grenlad and Keishar are the beast masters, although they don't prefer that term. They tend to think of themselves as communicators. Hailing from deep forests far away they are adept at "speaking" with all manner of creatures (usually through gestures, physical expressions, and simple feeling).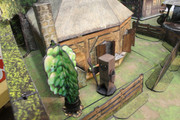 Hedera Vinea a horticultural and chemical mystic, specializes in potions, salves, tinctures, elixirs, and tonics.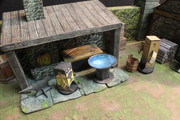 Anvil Hammerfist, so named by his parents in hopes of him being a great dwarven smith. His interests lie much more heavily in tinkering and design. He works closely with his best friend Thorack (whose name means the hammer in his native tongue). Thorack was orphaned at birth and raised by a monastic order until his early teens. He then joined an elite mercenary group, excelling in his combat skills due to his training as a monk, only to be kicked out due to a fellow cadet jealous of his calm and poise in battle. He now, working with Anvil and Wally, makes magical weapons, and items.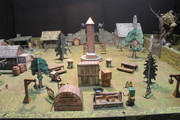 Hank (as he is known) is a half orc. he spent most of his life as a slave. His master didn't know how to pronounce his given name and so renamed him Henry. As a slave Hank learned to do three things very well, fight, work wood, and cook. When Wally encountered him he saw his potential bought him and immediately granted him freedom. Hank took the day off from lumber production to prepare a special feast in honor of Randold's arrival.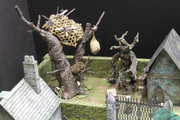 Simply known as "the tree" (since its name doesn't exist as such), this being was saved by Wally from an overly ambitious logging outfit. It doesn't move much, but when it does , it is quite something to witness.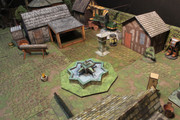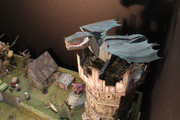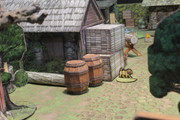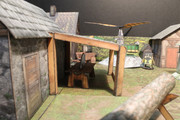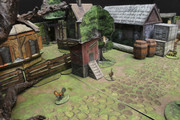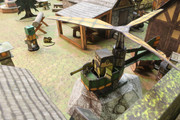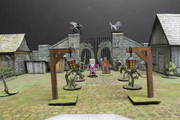 My whole goal with this project was to pay tribute to all of the amazing artists/designers who make this stuff, so I tried to include as many as I could fit on the board. There are so many more I would have liked to include, but the board is only 30x40 inches. There may be a couple of pieces that either I missed or don't know where they come from, but this should be a pretty good list.
eddnic
DGM
FDG
WWG
lightning
soaringraven
Dryw the Harper
Zsezse
monktaraz
Jim Bowen
Jim Hartman
kris
grendelsmother64
Punkrabbitt
Christopher Roe
bravesirkevin
jjensen
Penguin Labs
spaceranger42
oldschooldm
's daughter
mproteau (Paper Realms)
and some stuff from the forum hoards.