Post by aaron on Jul 2, 2014 20:17:44 GMT -9
here is the stuff I am working on so you can see what will be up and coming for Pigmi Games!
Netel bats roost in caves found in the northern foothills they come out every evening and fly for many miles to the great Jub jub Trees that line the edges of the forest. they are the only animal that can get to the Jub jub fruit and with their sharp claws extract the fruit from its hard casing. in the northern woods the Tribes of Splinterwood elves have tamed and trained these large bats and eventually learned to fly on them. in times of need the Netel Flyers bring swift death from above, scout out enemy positions carry messages or harass the enemies flanks. The Netel Flyers have become a vital part of the Splinterwood forces.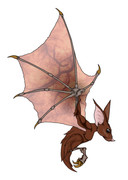 The Volpine were once found all over Estall they were like jypsies and traders but their real ocupation was theivery and assassination. thier reputation got so bad that the other races began hunting them to extinction. when the last of the Volpine tried to take refuge in the Splinterwoods it was Queen Ellasaph who made a pact with them. they would have sanctuary in the Splinterwoods as long as they worked for her alone. Striking a bargan that can not be undone the Volpine wasted no time settling in to their new home and now can be found in every part of the Splinterwoods and no where else on the planet. and though they are all over the Splinterwood you would be very hard pressed to find one. the Volpine see you you don't see the Volpine. as it is the queen is surrounded by no less than 10 of them at any given moment but you will not see them untill it is to late. they work as Assassins and messengers for the queen and are her eyes and ears in teh Splinterwoods.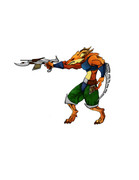 Here are some sketches of units up and coming!
to help some Splinterwood Elves draw on the Magic of the hart stone they ware elaberate head gear this is a helmet designed for that purpose.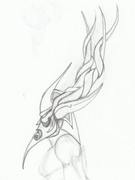 KestelVarnan Elves have an entire army of their own. Known as the High elves (amung themselves)because they have risin above magic others know them as the clockwork Elves! what do they look like well now you get your first glimps at the KestelVarnan clockwork elves! soon we will be leaving the Splinterwoods behind and building new armies !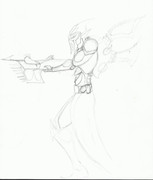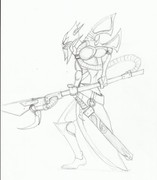 stay tuned for more preview goodness from Pigmi Games!