Post by aaron on Dec 5, 2014 20:06:58 GMT -9
ok so I have been working like a mad fool (which lets face it that description fits no matter what i'm doing) anyway after having a long conversation with *people I am now ready to unvale the new look and style of Temporum Oblitus (time forgotten) or t.o. most people just say to. see it works on multiple levels they can say hey do you play that and then they say ya I play to .... get it LOL ok ok I've been working hard give me a break sheesh everyone a critique ....
so here is the first of several images your going to see as promo posters for Temporum Oblitus to help give it a more professional look and feel.
ok so some info about Commander Blackwood, she's one of 6 HQ units you can bring for the Free Frontier (every army has HQ units and they all work pretty much the same ). You can only have one HQ unit leading your army and they all do different things depending on the unit.
Commander Trish I Blackwood conveys a global bonus to the army in that all vehicles get a +1 to their defense all jackers can take 2 less turns to steal stuff.
she comes with a retinue of 4 Fembots two with 30 ought combi rifles (they hit hard! they can shoot and when they hit they are always at the targets defense and down 2 for any models directly behind the taget)
the other two are 4 armed blade wielding close combat units. they look something like this...
and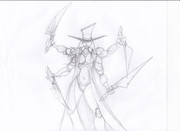 obliviously they have massive close combat bonuses
the back story is that she built them out of the wreckage of several Pelicans. that's why they are all bluish and rusty looking.
to make it worse Blackwood is also followed closely by a floating sniper drone and the cherry on the cake she has a mechanical owl (borrowed the idea from clash of the titans I loved the little owl) anyway as long as the owl is still functioning the sniper doesn't need line of site ... so it's a flying spotter.
and the icing on the cake of HQ Awesomeness is that Blackwood herself carries a special kind of plasma gun that uses the splash template and leaves a fire ring after her shot so she can do strucktur damage and then last but not least she's the queen of all Jackers so she can steal and repair stuff twice as fast as any other jacker even with her bonus.
the funny thing is Blackwood isn't even the toughest HQ unit she's actually kind of average. Molly Mcdrummand is the Heavyist hitter in the Free Frontier.
of coarse their points costs reflect their abilities and in a smaller game the HQ unit would be half your army.
In blackwoods case ordinance fire isn't her friend and she has little defense against it. so things like Geesy Toads, the Foe Hammer and the Big Meck can send her to a splody screaming death pretty quick if she doesn't find some kind of cover.
so their you have it new look new feel and yes it's kicking my butt, hopefully it's worth it!
*people = any person/persons I am not at liberty to mention at this time.